It's never winter in Malaysia – but you can still pretend you're living in a temperate region this Christmas, with some makeup hacks.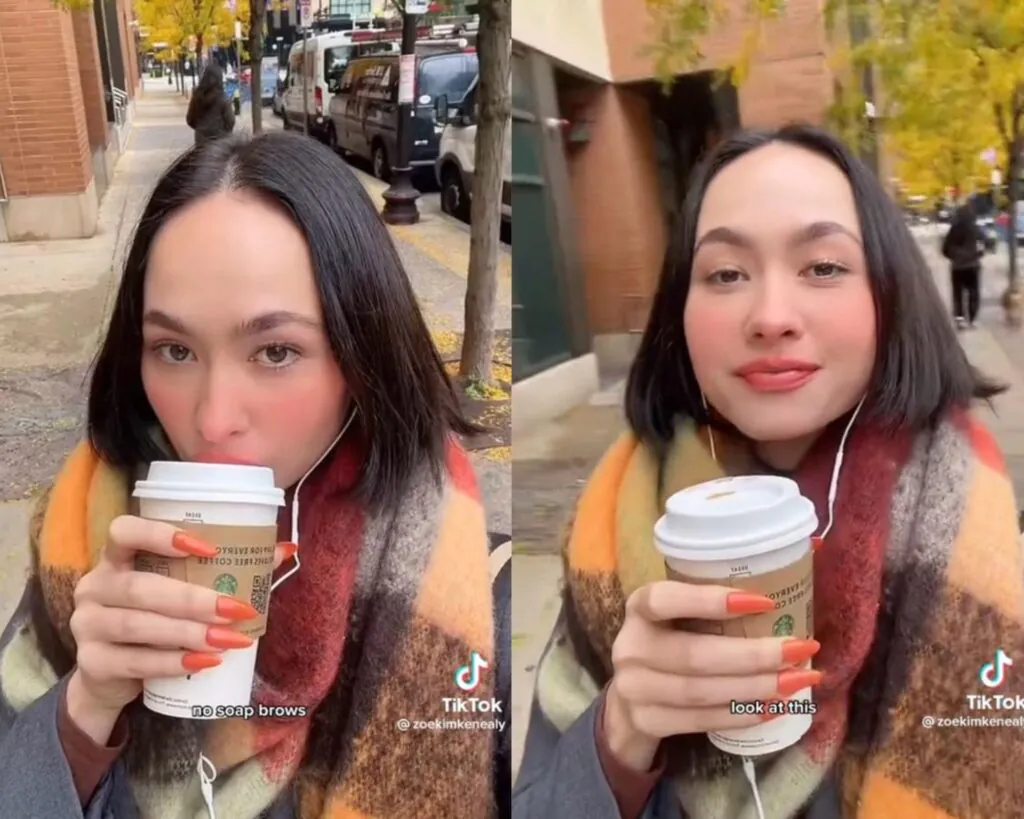 Glossy, juicy lips are making way for regal mattes; and bronzers with a hint of sun exposure are being pushed to the back of the makeup case. That's because summer is over and it's time to make way for December. I know we don't experience winter in our country, but this 'cold' trend might be just what we need to start looking forward to the festive season.
Makeup artist Zoe Kim Kenealy, who ingeniously described the look as creating that cozy, Christmas Hallmark movie spirit, invented and branded the "I'm Cold" TikTok craze. In her debut video on the topic, Kenealy explains the concept and guides viewers through the key elements of the fad: matte skin, carefully-placed blush, and a soft matte lip that all work together to give the impression that you're enjoying a stroll through chilly, windy city streets. Okay, so let's get busy with the deets!
If you want to achieve the holiday movie heroine look at home, it's essential to start with the appropriate base. This winter look is nothing like summer or spring. Which means, no glossy skin and everything is mattified. For your base, use a matte foundation, skin tint, or concealer to even out tone. Since there's so much blush involved, you'll want to neutralize unwanted redness and create a smooth foundation for the rest of the look. Even if you have a dry complexion, you should really choose powders and matte finishes over a more shiny, dewy result. Trust the process cause the final stage is where it all comes together. Lightly highlight the under-eyes with a little sweep of brightening concealer, then set the entire face with a matte powder.
In the TikTok video, Kenealy layers and blends two different blushes — one orange and one pink. This prevents the blush from appearing like true windburn and is a terrific method to warm up the complexion without using bronzer. Also, the placement is crucial. Sweep the blush closer to your eyes and along the apples of your cheeks.
But here's the tricky part. Apply the same blush mix across the tops of the lips, around their borders, and your Cupid's bow, ending just short of the bottom of the nose. Then, strike the bridge and tip of your nose, avoiding the blush on your cheeks. Use more matte powder to diffuse the intensity and combine everything. And you're done. You can use some matte setting spray to complete the look. The best thing about this look is it uses minimal makeup product and neutral colours. Even if it's not winter, you can always turn to this makeup hack for your everyday looks.
Of course, there are countless ways to personalize the lewk. Following the trend, many TikTokers have alterered the look by choosing different blush colours, like rose and berry, which are perennial favourites for the winter and suitable for those with cooler undertones. To make this look more appealing, consider going outside for a while (or into the freezer section of the grocery store, whichever works best) and notice what hues naturally emerge when you're genuinely chilly. Even if you reside somewhere where the seasons don't change and it's always hot outside, at least you can enjoy your blush realistically.
More on makeup? Read:
Three Blushes That Will Create A Natural Pink And Reinvigorate Your Glow