If there's one thing Malaysians love besides big, main meals, it's snacks. Think about it. Apollo Wafers, Choki Choki, Mamee Monster, Popo Fish Murukku – we just love snacking on yummy tit-bits. What if I told you that your childhood favourite snack is about to go through an epic change that is so out of this world?
That's right! Introducing the all new Super Cruncheese!
The Alley Malaysia has collaborated with Malaysia's all-time favourite snack, Super Ring, and launched a mouth-watering cheesy beverage called the Super Cruncheese. The Super Cruncheese is a combination of Super Ring snacks, milk, caramel sauce and cane sugar. The beverage is then garnished with more crushed Super Ring bits followed by brown sugar, whipped cream and topped with more Super Ring bits.
Here's how it's made:
The Taste Test
Of course, Super Ring is a very cheesy treat – and turning it into a beverage? I wonder what the outcome would be.
But before you even get to the taste part, there's a proper way of drinking it to ensure that you get the full burst of flavour from this new beverage.
To fully grasp and enjoy the experience of drinking this unique beverage, you should start by biting a piece or two of Super Ring garnished on top. Then stir your drink evenly about three to five times to ensure all the ingredients are mixed well. Once done, immediately take a satisfying sip of the beverage. This way, the entirety of the Super Cruncheese drink will be enjoyed the right way, and in one gulp.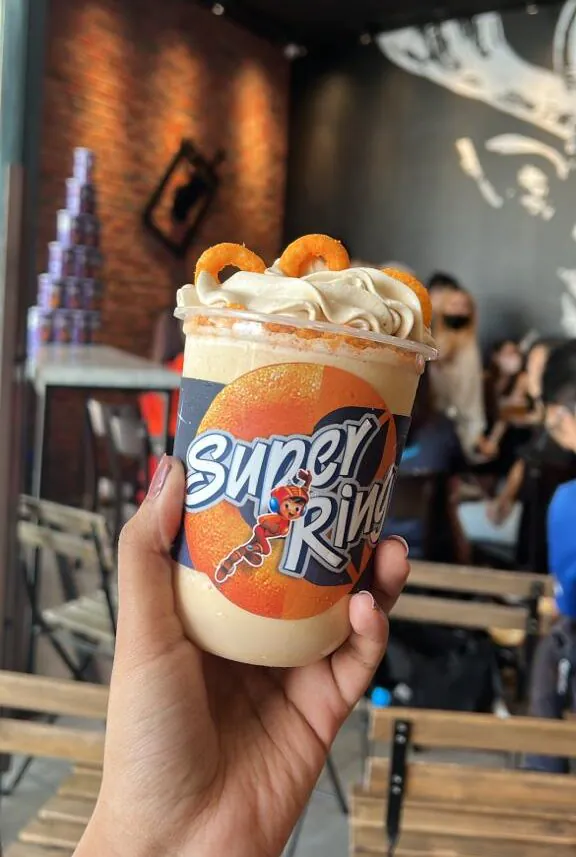 I wasn't ready to try it. I mean, if it's a cake or pastry, it makes sense, since Super Ring itself is a snack. But turning it into a beverage – that's a pretty bold move. So, I followed the steps: took a piece of Super Ring, stirred my drink and sipped it up. To tell you the truth, it wasn't bad at all. In fact, it's one of those beverage you can have during a hot sunny day.
I was expecting it to be very cheesy – but turns out, it had a hint of coffee! The brown sugar whipped cream was super delicious and I loved it. As you sip this beverage, you get chunks of Super Ring in your mouth. It's not too sweet or very overwhelming, but is very balanced in flavour. I had mine – and it's time to try yours. I bet you won't regret it.
The Super Cruncheese will only be available in cold options from 15th August onwards at all The Alley outlets across Malaysia (except Genting Highlands) for only RM18.90. Be sure to surf the milky way with The Alley and Super Ring's new beverage, the Super Cruncheese!
For more information on this new beverage and other beverages from The Alley, stay tuned to The Alley's Malaysia Facebook and Instagram page.
More on food and drinks? Read these:
https://lipstiq.com/food-drink/lip-smaqing-food-review/205046/pavilion-feast-delicacies-drinks-desserts-demos/
https://lipstiq.com/food-drink/lip-smaqing-food-review/208025/foodpandas-10th-anniversary-special-menu/