In true Duchess style, Meghan Markle accompanied her husband, Prince Harry, on a trip to New York this week. But it isn't just her flawless skin, sleek back ponytail and chic outfit we can't stop staring at – it's her perfectly-defined brows.
Meghan was seen rocking a thicker brow than usual. The Duchess of Sussex has lovely and naturally healthy brows anyway, and now she's embracing the much fuller, darker brows in a neat, ultra defined shape, adding a modern twist to a classic brow look.
"Her brows are framed with only a subtle arch, inspired by the iconic 'Audrey Hepburn' brow," says Jamie Long, Lead Stylist at HD Brows. "The tail of the brow is lifted slightly to open up the eyes and lift the face, which keeps the eyes looking youthful and fresh. It's a brow style that is universally flattering, but it works really well with Meghan's soft features.
"The brows are bang on trend right now, and they really suit her, and complement the rest of her makeup perfectly, which includes a warm smokey eye, bronzed cheeks and a nude, glossy lip."
According to Jamie, there are two ways to achieve the look – microblading or brow lamination.
Brow Lamination
Brow lamination is a treatment given to achieve instantly fuller-looking, fluffed-up eyebrows using your existing hair. We asked Jamie Long how this works:
"Brow lamination is a two-step eyebrow perming treatment that involves correcting the brow shape by setting the hairs in place using a chemical solution. In the first step, a cream is applied that breaks down bonds in the eyebrow hairs so they can be manipulated into a new position. In the second step, another cream is applied to rebuild these bonds and set the brows in their new uniform position.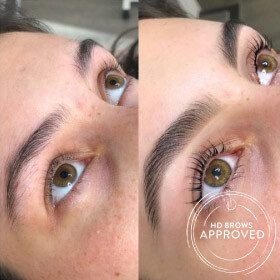 "If you have unruly, flat or downward growing hairs, eyebrow lamination can change the direction of growth to create a more uniform look, with a higher arch and a more desirable brow shape. Brow lamination lasts 4 to 6 weeks generally, with proper care allowing the brow treatment to last as long as 8 weeks."
Microblading
We asked experts at leading permanent makeup brand, KB Pro, how to achieve the Megan Markle brows with microblading: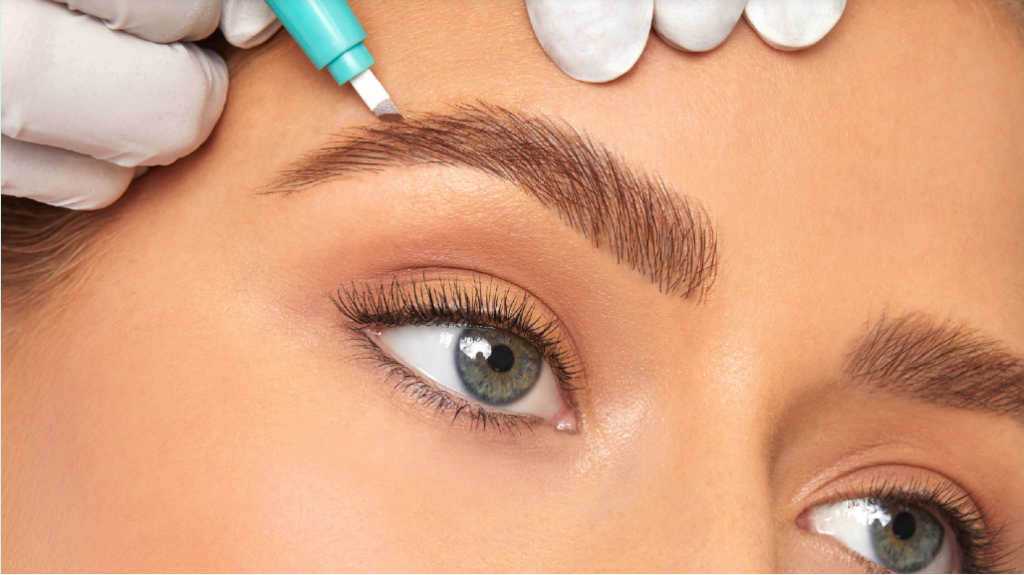 "Microblading is a method used to create super realistic hair stroke brows. It involves using a disposable hand-tool with super fine needles to deposit pigment within the upper dermis layer of the skin to create the illusion of brow hair."
"From the mature client who has very sparse eyebrows, to the lady who has over-plucked her brows in the 90's – this treatment works for almost everyone."
More on body hair? Read this: