It's Pride Month! And what better way to commemorate the occasion than with movies and popcorn?
Let's face it: LGBTQ+ representation in films hasn't always been flawless. For a very long time, queer movies and films were almost non-existent, and even if they were made, they weren't genuinely representative of the queer community. Despite all the negativity, LGBTQ films and storylines have become more mainstream in recent years, and they've also dominated awards shows and achieved commercial success in unexpected areas.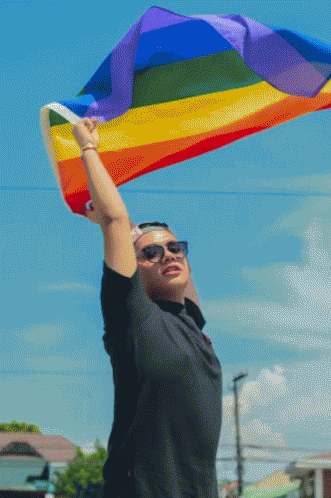 The beauty of LGBTQ+ film representation is that, like its members, there is no such thing as a "one-size-fits-all" story. This means that it's no longer simply about LGBTQ+ trauma: there are comedies, gripping dramas, thrilling adventures, documentaries and more, which can entertain almost any kind of viewer .
Ranging from quirky hidden gems to mainstream blockbusters worth re-watching, we've listed some of the best LGBTQ+ films to watch on Netflix.
1. Heart Shot
A queer teen romance that transforms into a dramatic action-thriller, a tone shift that isn't as unexpected as you may imagine. Heart Shot is a Netflix Original short film directed by Marielle Woods and starring Nia Sondaya as Sam and Elena Heuzé as Nikki. Sam and Nikki, a high school pair, have a once-in-a-lifetime opportunity: Sam's mother is going away for the weekend, and they have the house to themselves. But going down lovers' road isn't always easy. Viewers can be sure to expect some romance as well as some heart pumping thrills.
2. Lingua Franca
Isabel Sandoval's superb picture of a trans Filipina immigrant is so intimate at moments that it feels too personal. Sandoval, who also stars in the film, directed, wrote, produced, and edited the film, which premiered at Venice Days. Sandoval is the closest queer cinema has to a trans auteur operating on a large scale. The film follows an undocumented trans woman as she works to save money for a green card marriage, which is complicated by unexpected love. "Lingua Franca," which is sharply cut and shot with austere elegance, is a powerful example of what occurs when disadvantaged voices are allowed complete creative authority.
3. The Half of It
Ellie is a quiet and lonely adolescent who is frequently commissioned by fellow students to complete their schoolwork. The movie has been dubbed a loose retelling of Cyrano de Bergerac, modified to meet the times. She's delighted to do as asked, and charges a fee to assist her family in making ends meet. However, she receives an unusual request when Paul, the school athlete, asks her to ghostwrite love letters to his crush, Aster. It works well at first, until Ellie falls in love with Aster herself, which complicates everything for everyone concerned. It's a nice story about what causes individuals to fall in love with one another and the value of being genuine to oneself.
4. How I Felt When I Saw That Girl (Ek Ladki Ko Dekha Toh Aisa Laga)
This film was released following the Indian Supreme Court's 2018 decision decriminalizing homosexuality in the country, with Anil Kapoor, Juhi Chawla, and Rajkummar Rao in starring roles.
Sweety Chaudhary (Kapoor's daughter, Neerja's Sonam Ahuja) attends a raucous and musical wedding in the little northern town of Moga, avoiding her family's nagging inquiries about when she'll get married (behold, a universal constant). Sweety meets Kuhu (Tamil actress Regina Cassandra in her Hindi debut), who tries to introduce Sweety to her brother at first, but something happens between the two (ridiculously glowing) women.
5. Dear Ex (誰先愛上他的)
This Taiwanese black comedy-drama follows Song, a teenager who discovers that his recently deceased father was leading a double life, when a strange man named Jay appears after his death. Jay was not only Song's father's life insurance beneficiary, but he was also his lover, according to his testament. Song is now torn between his mother Liu, who is dealing with the knowledge that her husband was unfaithful and a secret homosexual, and the free-spirited Jay, who has flipped their lives upside down. The film was chosen for the Academy Awards' International Feature Film category but did not receive a nomination.
6. Girl
Nora Monsecour, a trans female dancer who filmmaker Lukas Dhont met while he was a youngster, was the inspiration for the story. Lara (Victor Polster) is a 15-year-old trans girl who desires to be a professional ballerina, exactly like Monsecour. While she has some significant individuals in her life who support her as she deals with her gender dysphoria, starting a new school and going through puberty provide additional problems. While the film was panned for its depictions of gender dysphoria and self-harm, Monsecour, who contributed to its development, come out in support of it.
7. Dancing Queens
It's a modern-day Cinderella tale with a gay subplot. Dylan, a 23-year-old lady from a small island, begins working as a cleaner in a struggling drag club. She does, however, have a secret: she wishes she could be a dancer. While the club's star dancer discovers Dylan's dreams and realizes she has skill, the dilemma becomes: Is it OK if she dresses up as a man and performs drag when she is biologically a woman? The lighthearted picture, which hails from Sweden and is dubbed a comedy, is a pleasant viewing with a group of friends.
8. Elisa & Marcela
The first same-sex marriage in Spain is the subject of this film by Spanish director Isabel Coixet. The gripping true story follows Elisa Sanchez Loriga, who assumed the identity of Mario Sánchez in order to marry Marcela Gracia Ibeas, her companion. Although this marriage, which took place on June 8, 1901, was later discovered, the Catholic church never officially condemned it. The couple, on the other hand, spent the remainder of their lives fleeing persecution.
9. "Circus of Books"
It's hard to imagine a finer setting for a documentary than a homosexual porn shop operated by a straight Jewish couple, but add in the fact that their daughter is the director, and you've got one of the year's most shocking films. Rachel Mason follows in the footsteps of hybrid documentarian Kirsten Johnson, but adds a dash of Borscht belt humour, Jewish culture, and gay history to the mix.
Her affectionate tale of her parents, Barry and Karen Mason, and how they came to own one of LA's most prominent gay cruising venues is the ideal blend of personal exploration and compelling storytelling. Karen emerges as the film's comedic star and the typical Jewish mother, bartering at the sex expo while simultaneously questioning her daughter's creative choices. It's the unexpected collision of these disparate aspects that makes it such a delightful film.
10. The Prom
The Prom is fun in a Ryan Murphy all-out glitz and glam kind of way. It's not as good as it should be given the outrageously talented cast, and James Corden received perhaps one of the most undeserved Golden Globe nominations ever for it, but it's still fun in a Ryan Murphy all-out glitz and glam kind of way. When a gang of Broadway has-beens watches a news article about a small Indiana town refusing to let a kid attend prom with her girlfriend, they fly to the town in the hopes of reviving their careers through some performative activism. However, they soon discover that they have more depth than they imagined.
11. The Boys In The Band
The fact that the cast is entirely made up of openly gay performers is just as essential as the message this film conveys. They play a bunch of gay friends who gather together in an Upper East Side Manhattan apartment to celebrate a birthday. However, when the host's former college roommate, who happens to be straight, shows up uninvited, things go bad. The Ryan Murphy-produced drama, set in 1968, examines the age-old challenge of dealing with societal rejection and coming to grips with one's reality and self-worth through a colourful cast of people.
More of LGBTQ entertainment? Read this:
https://lipstiq.com/books/186572/book-recommendations-lgbtq-books-you-should-read-asap-because-theyre-l-i-t/