Even if you have the best foundation in the world, if you don't use the appropriate tools to apply it, it might look cakey, streaky, or just plain bad. From fingers to brushes, cosmetic equipment has evolved dramatically in the last few years. And thank goodness for that, since it does make a difference in our appearance after all. Fingers were once thought to be the finest instrument for applying foundation, but makeup brushes came next and they proved to be a more superior and sanitary option. However, beauty sponges and their ability to apply faultless makeup with the least amount of product outperforms them all.
And the fun doesn't stop there. Makeup sponges themselves have experienced an upgrade. Aside from colours, beauty sponges also come in a variety of forms and sizes, making it difficult to choose the ideal one. Each form has a distinct purpose, but how do you know which is which? That is why we're here to assist you. Here's a quick reference guide to which sponges to use when, and how to use them.
1. Triangle Sponge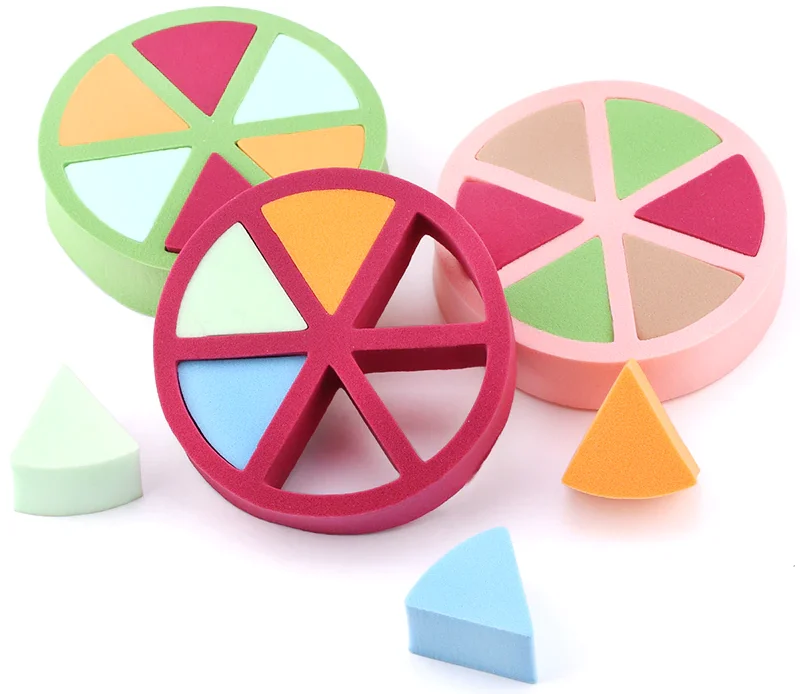 From way back when, the triangular sponge was part of the original generation of makeup sponges. They're disposable, so they're ideal for the on-the-go lazy female (or not). They don't burn a hole in your pocket like other cosmetic sponges. They do the job, but they may not be the best choice for beginners, because the stiff lines and points make it difficult to uniformly spread product compared to curvier options. Triangle sponges, however, come in handy when applying product near the eye and nose area.
2. Pear-Shaped Sponge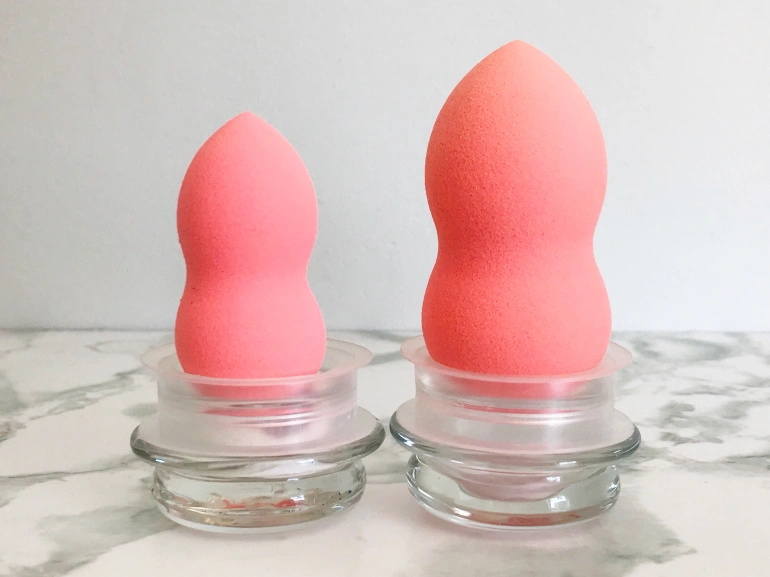 The curved tip of this sponge enables for precision and targeted covering. It also features a small divot that can help with more precise application, particularly with hard-to-reach regions like the corners of your nose. This sponge gives an opaque finish when makeup is applied using the tool's curves, while the rounded base gives a sheerer application. By rolling your highlighter on the apples of your cheekbones, you can effortlessly blend it thanks to the slightly curved form. Also, they're easy to hold, ensuring that your fingers don't get smudged with makeup products.
3. Oval Sponge
By now, you've probably seen the distinctive egg-shaped sponge everywhere. With good reason – it's a favourite among makeup artists, beauticians, and the general makeup-loving public. The latex-free foam ball delivers a smooth coat of liquid, gel, and cream formulas to the skin, leaving it faultless rather than clumpy and covered. The broad end is for applying foundation, while the tapered end is for blending concealer over more specific parts of your face. Also, once the sponge is wet, it doubles in size, allowing you to manage the amount of coverage. Simple dip the tip into the product and dab it lightly on the area you wish to cover. Using the tapered end, blend the product onto your face for a perfect finish.
4. Multi-tasker Sponge
If you prefer one tool for multiple uses, then this might be just what you need. This latex-free sponge appears to have had a slice cut out of the side, which is exactly what makes it so versatile. The rounded side is perfect for basic foundation and bronzer application, the tapered tip is great for detailing, and the flat side is great for contouring. It can be applied dry for full coverage or damp for a more controlled and buildable appearance. If you like to spend extra time cleaning your skin, this is a terrific all-in-one product that will assist you to do so.
5. Silicon Sponges
Although it's not technically a sponge because it lacks the holes that allow air to enter through, it is still referred to and used as such. These jelly-like sponges, which are primarily made of silicon, have become popular since they do not waste any product. Because silicon doesn't absorb any product, you just need a small amount of product for your face. Silicon sponges provide a higher level of coverage, but the skin does not have a natural finish. Furthermore, they might be streaky when it comes to blending, especially when using tenacious or heavy-coverage matte foundations.
More on sponges? Read this: