Korea is the hub for everything innovative, fun, exciting, hi-tech, and super over-the-top. If you read my previous article about my review of The Face Shop's Yehwadam Heaven Grade Ginseng Serum, you'll know that I was privileged to be able to stay in Korea for several months, all thanks to my husband's job.
I can confirm that Korea is one of the best places to live in. I mean, what's not to like about a place which offers natural beauty at every corner, a shopping haven, an entertainment hub of all sorts, a food paradise, and a super advanced country in every aspect.
We were based an hour from Busan, a place called Ulsan, which is equally as vibrant as Busan but a lot calmer than Seoul. Honestly, I preferred the quieter side of Korea. It's a quiet city where untouched beauty abounds and still personifies Korea's charm and high quality of life.
On the other hand, when you step foot in Seoul, you have to remind yourself that you're in Korea, because you'll instantly be hit with a wave of foreign nationalities – making you feel lost for a bit, until you look around and notice the vibrant neon lights on buildings. What a sudden relief!
Ulsan, also comprises everything Korea is known for, especially the booming entertainment industry. Anywhere and everywhere you look, there's a vending machine with things that make you want to zoom in closer. I was left in disbelief many a time after seeing the things their vending machines had to offer.
Personally, I'm not into the cute dolls, toys, anime, or K-pop that Korea is insanely famous for. Yeah, I know, I suck. But hey, who's judging, right? So many of these vending machines had what I call cute-stuff-which-adults-do-not-need, and some which adults-live-for, like hot coffees… in cans! Beat that, Malaysia!
Before I dive further into quirky vending machines in Korea, let me tell you what an ecstasy Korea is for coffee lovers. If you eat, sleep and live for coffee, go to Korea. Coffee giants like Starbucks are outshined by local coffee brands which serve amazing coffee with an impressive variety to choose from. Additionally, you don't have to splurge in fancy cafés to enjoy a good cuppa. Some of the best brews come from quaint little cafes just by the streets.
Staying on the topic of coffee, you can get them literally anywhere! If there are no nearby cafes to satisfy your coffee cravings, just search for a nearby vending machine.
And oh no, it's not like what we have here, chilled cans. Their coffee cans are kept at hot but drinkable temperatures, perfect to get the caffeine kicking in no time!
So you see, technology like this is what we need – something useful. Not to say that all the cute kitty plush toys are redundant, but having them in abundance is another thing. And let me tell you, once you start inserting your money into these vending machines, you're igniting an addiction for quick and cheap fun and entertainment. I have seen people holding tiny buckets like the one they have at casinos – for the vending and claw machines. How crazy is that!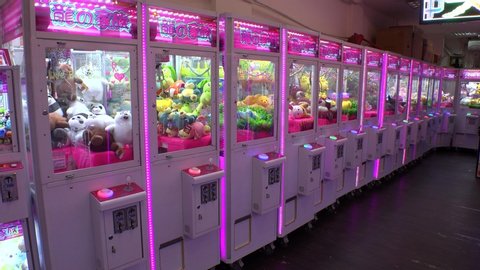 Koreans are fondly known for three major things – K-pop, K-beauty, and K-imchi. We know the craze for the first two, but the love they have for food is beyond imaginable. Do I need to dive deeper on the variety of food they cover? It's vast. So, generally, when the people share a great sentiment on food, you know it has to be within reach, right? Again, enter the vending machines!
I'm not talking about Maggie in a cup – it's literally a typical Korean restaurant menu in a machine! In seconds, your favourite meal is ready to be eaten hot, on the spot! Koreans do love things quick and easy, don't they?
In a nutshell, vending machines in Korea offer a lot of things – some are very unique, fascinating, and serve a worthwhile purpose; while others are purely for entertainment. Nonetheless, everything you see there is charming in its own way. Their culture has a pulling effect, a vibe that's spreading all over the world like wildfire! To truly know what I'm talking about, you'll need to be there in person to grasp it.