Highlights are used to enhance certain features on your face, like the highest point on your cheeks, the bridge of your nose and maybe your cupid's bow. They usually come in shades like golds, bronzes and peaches because these conventional metallics would usually match your undertones. Essentially, you would want to pick highlighters that would complement the undertones of your skin to ensure that the glow comes off more natural-looking – as if you are glowing from within.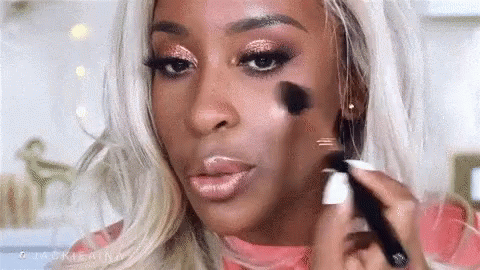 If you wish to build more luminosity that will surely blind anyone who looks at you try on coloured highlighters! Adding more glow is never enough, so why not add some colour to it?
Coloured highlighters have been lurking in the makeup world, but have never been the 'IT' cosmetic product that everyone would rave about. Mostly because people don't actually know how to apply them. One would normally assume that a coloured highlighter is typically applied like any normal highlighter – but this turns out super messy!
You'd get this coloured streak all across your cheeks and it's just not a good look, hence why people turned away from them. Plus, coloured highlighters look more stunning for editorial pictures, as the images would enhance all the right features of the highlight.
Pretty, right? Can you imagine if these highlighters were worn in the daylight? You'd just look crazy. But, what if I told you that these highlighters are not meant to be worn like any normal highlight, and instead, as a topper?
Rather than brushing your cheeks packed with product, you'd lightly apply it on the highest point of your cheek to add oomph to your entire look. Insane, but it makes total sense! Check out this TikTok video made by Drea Beauty explaining exactly how to wear these coloured highlighters.
So subtle, yet packs a whole lotta punch for your entire makeup look! It ties in beautifully if your makeup look centers around one colour – either green, pink or blue. Also, even if you don't decorate your eyes with any colour, a pink blush with a pink highlighter pair exquisitely well together, and when the sun hits your cheeks, the pink illuminates your face while still adding the beautiful flush to your cheeks.
Unfortunately, not many brands offer a lot of coloured highlighters these days due to low demand. But, if there's a sudden trend in coloured highlighters in the future…
Would you give coloured highlighters a try?
More on highlighters? Read these:
Shine Bright Like A Diamond! 6 High-End And Drugstore Highlighters You Must GLOW For!
Look Fenty-stic With Fenty Beauty's New Liquid Killawatt Fluid Freestyle Highlighter