If you haven't seen Paris Hilton's brand new series Cooking With Paris, you're in for a real treat, cause this cooking show is not a run-of-the-mill production. Watch the 6-episode reality TV series as the socialite fumbles about in her kitchen and the grocery store in the most extravagant outfits (and all the more impractical for cooking, may I add) to bring her rendition of recipes to fruition with the help of a few celebrity friends such as Kim Kardashian and Saweetie.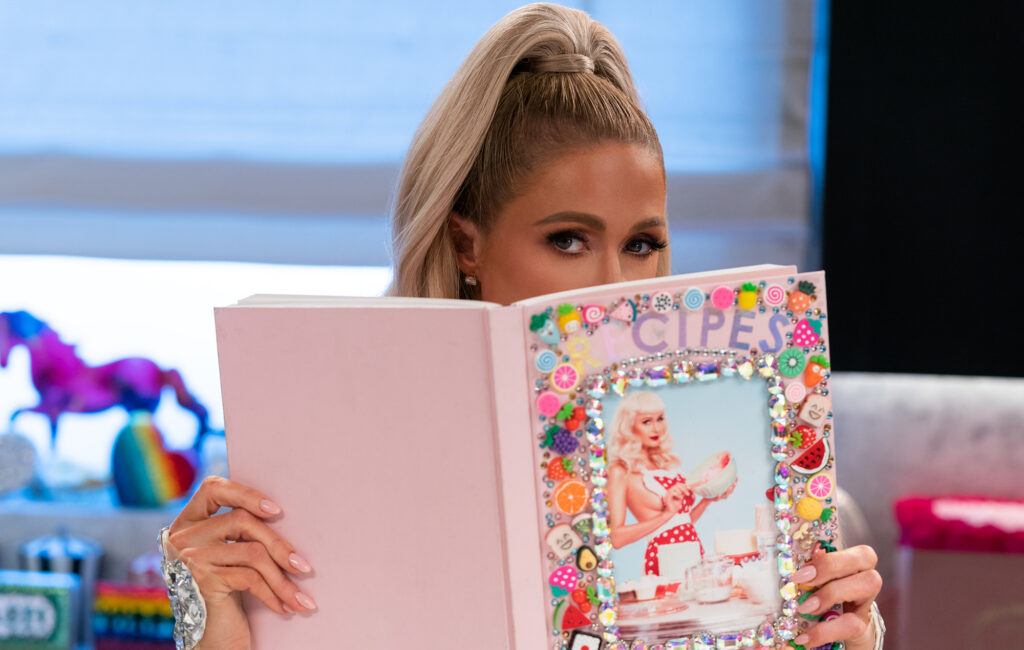 Oh, did I mention outfits? I mean, the show owes its success to Paris Hilton's outrageously out-of-place yet stunning fashion choices, because that is what makes the show so fun to watch! I don't know about you, but it was pretty funny watching her take the risk of messing up and spilling food on her high-end designer outfits. BTW, she claims to be a beginner at cooking, so you can imagine what a hilarious mess this could look like.
Paris In Pink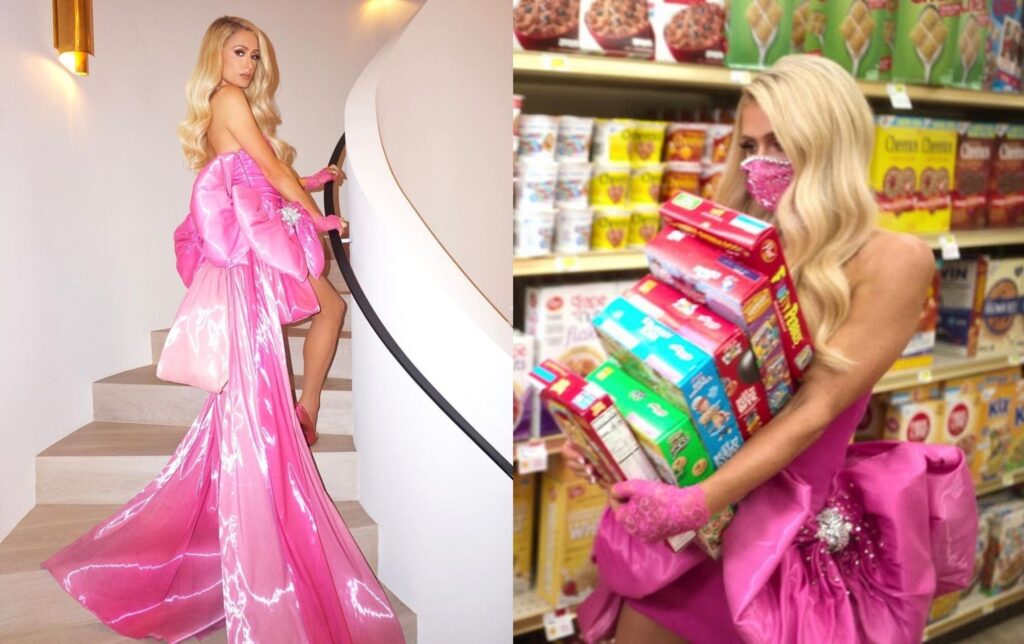 We're kicking it off with the first outfit seen on Episode 1 where Hilton got dolled up for a trip to the grocery store in a vivid pink dress designed by her good friend Christian Cowan; and topped her look off with a matching pink mask and fingerless gloves (or sliv gloves, as she calls it). With her gorgeous blonde hair, The Simple Life star looked just like a live-action Barbie.
Saweetie
First of all, Saweetie always shows out when she shows up, so of course we included her Cooking With Paris look. The American rapper stepped into the show in an outfit that's best described as a glamorous form of Marie Laveau; a vintage Vivienne Westwood black lace corset with a Gold Vintage Moschino Garter peeking out of the slit of a JLUXLABEL 'Krisana' Skirt and completed with a pair of Giuseppe Zanotti black platform heels; a Three Row Pearl Bas Relief Choker by Vivienne Westwood and iridescent long acrylic nails. It was giving… witchy dark magic goddess vibes.
Paris In Silver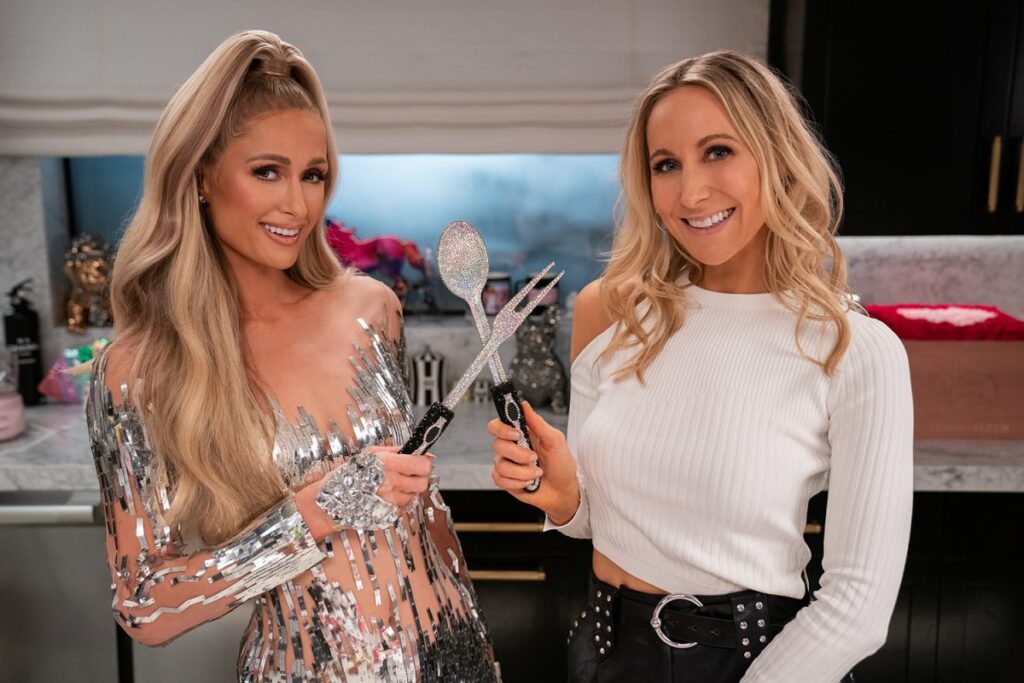 I mean, who would cook up a meal of vegan burgers and fries in an illuminating mini dress this gorgeous without the anxiety of ruining it?? Paris would, duh! Throughout several outfit changes in Episode 3, the American socialite chose a long-sleeve off-shoulder sequined mini dress by Thai Nguyen and paired it with matching silver sliv gloves and silver pump heels by A By Annabelle. Check out her rhinestone cooking utensils, they match too!
P.S. Thai Nguyen, if you're reading this PLEASE put this gorgeous mini dress on the market cause we absolutely need this in our closet.
Kim Kardashian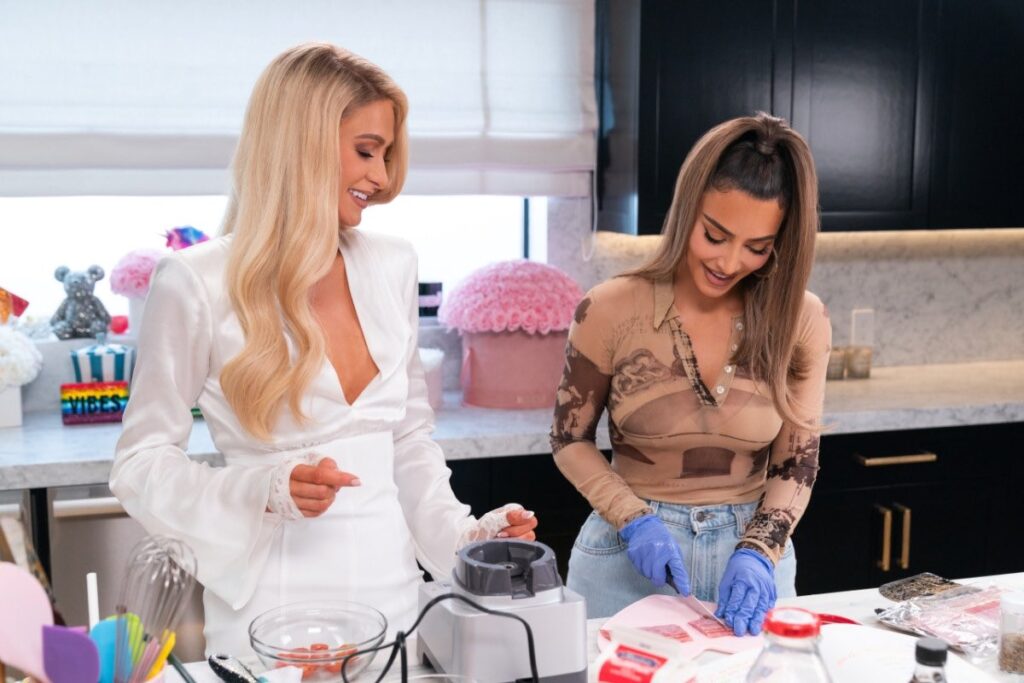 Now let's talk about Hilton's long-time friend and former stylist, also known as Kim Kardashian. Out of all the celebrity guests of the show, the KUWTK star showed up in the most casual (yet stylish) and kitchen-practical outfit, wearing a long-sleeve nude brown top tucked into a pair of mom jeans with nude pump heels and a sleek high-ponytail that polished her look. Sure, Kim's outfit looks like the most simple and practical compared to Hilton's satin white mini dress, but it looks amazing and fashion-worthy – so this look deserves a spot in our list. 
Paris In Y2K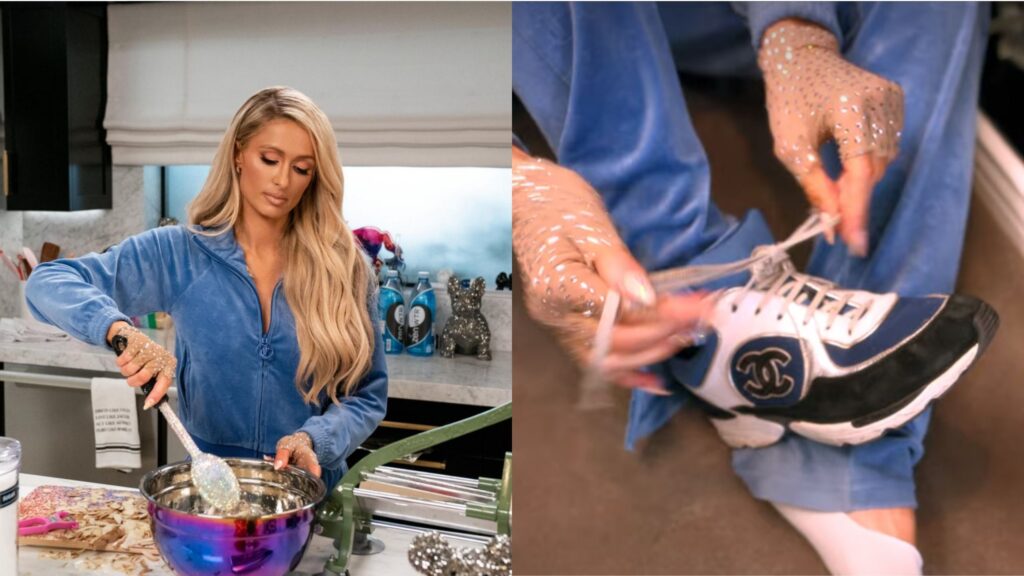 We know we said that the show is nothing without Paris Hilton's fabulous outfits, but then Paris isn't Paris without her staple velour tracksuits. An iconic Y2K fashion piece that was popularised by the woman herself in the early 2000s, the velour tracksuit made more than one appearance in the show, which is pretty obvious since Paris probably owns a whole closet of these. After changing out of another lavish outfit, the Beverly Hills socialite opted for a blue velour tracksuit with her name emblazoned on the back and a pair of Chanel sneakers – so CUTE!
Paris In Caviar Black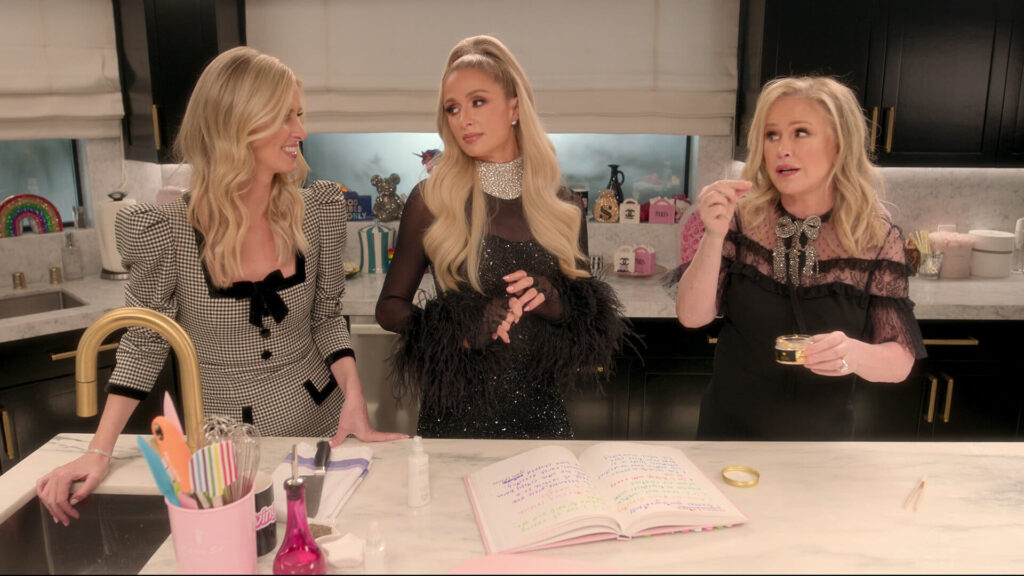 To wrap up the show, Paris invited her dear mom and sister, Kathy and Nicky Hilton, for a luxurious steakhouse dinner night. The American media star chose a black glitter mini dress lined at the neck with dazzling gemstones and sheer sleeves, embellished at the wrist with ostrich feathers which sparked an entertaining moment as the feathers kept falling into the food. It was all the more amusing to see the three Hilton ladies wearing matching heart-shaped sunnies while they were peeling onions – capturing the most Hilton moment ever; so couture, so extra. We love it!
Cooking with Paris is now streaming on Netflix. Watch the trailer here!