How have we already reached the end of 2021? The year, just like any other year, was filled with fashion looks that made 2021 one of the most memorable in recent fashion history. Hence, come take a look back at the best and most iconic fashion moments of the year with us.
Cardi B's ruffled green onesie at Paris Fashion Week
Cardi B is seen on Place Vendome on October 03, 2021 in Paris, France. pic.twitter.com/DHpx3Ohpg9

— CardiBArchive💎💎💎 (@cardibarchive_) October 3, 2021
The "WAP" singer turned a lot of heads with her very green outfit as she walked onto the red carpet. They're all separate pieces, but when putting matching gloves, high-waisted trousers, and a ruffled bonnet together, she looks like she's wearing a gigantic green onesie. And what do we think about this look? We're not too sure…
Beyoncé and Jay-Z's Tiffany's ad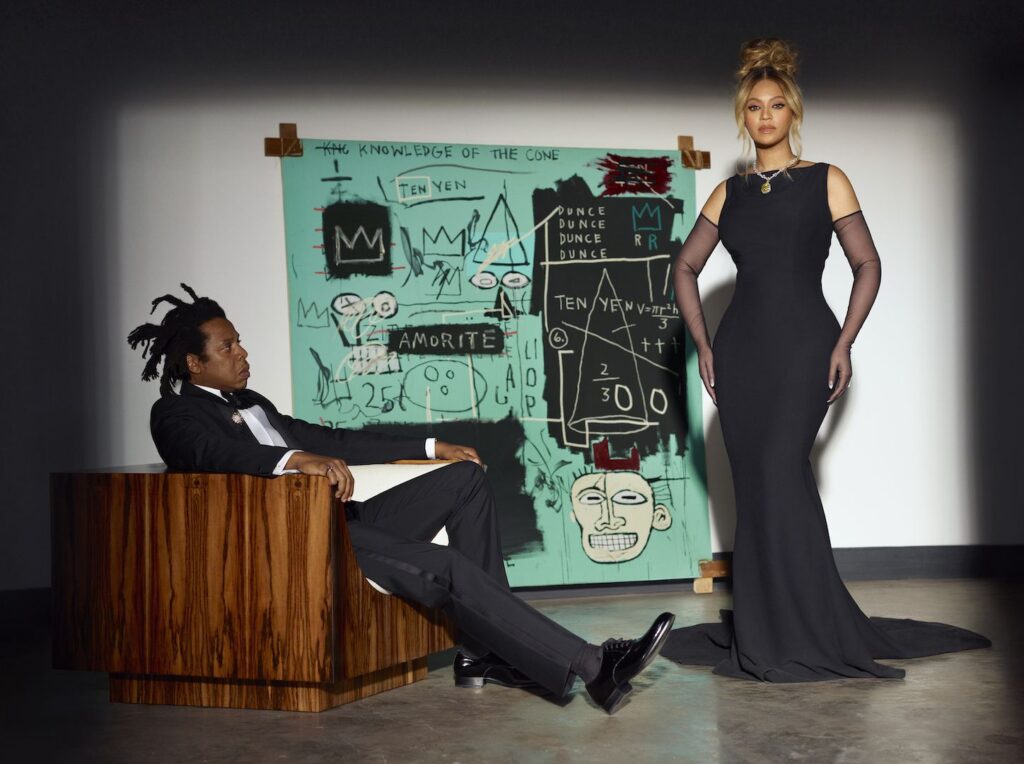 Queen B and her hubby stunned the world in their Breakfast at Tiffany's-inspired campaign for luxury jewelry brand Tiffany & Co. The couple posed in front of a rare Jean-Michel Basquiat painting with Beyoncé being the fourth woman in history to wear the priceless Tiffany Yellow Diamond after socialite Mary Whitehouse, Audrey Hepburn, and Lady Gaga.
Grimes' Dune-esque 2021 Met Gala look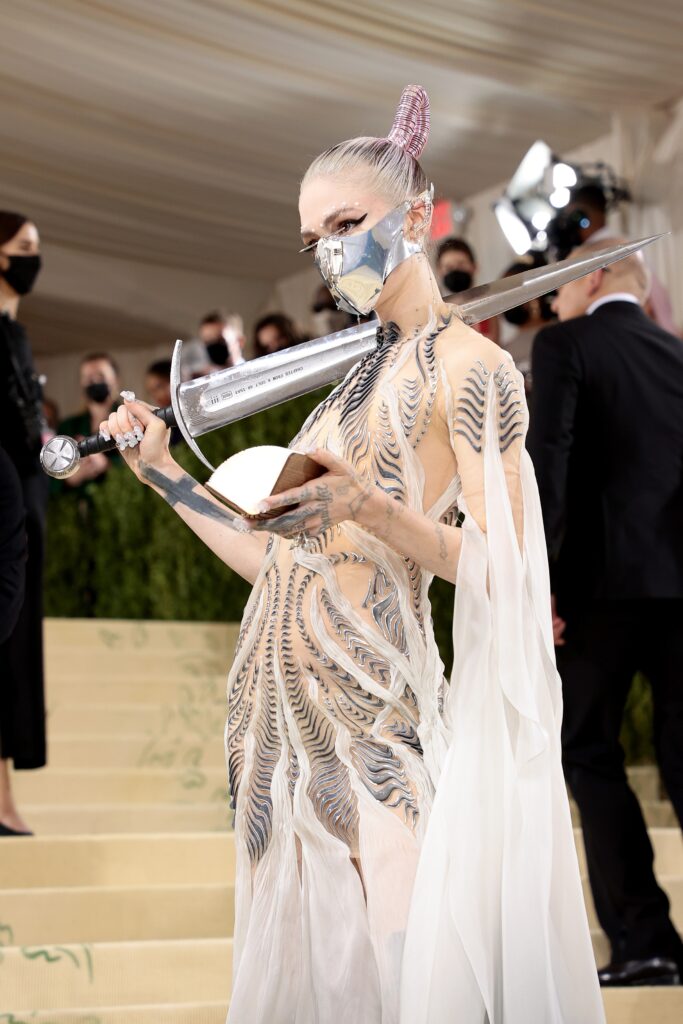 We can't forget the look Grimes served at the 2021 Met Gala, can we? Grimes made an otherworldly entrance in a sheer gown covered in silver zig zag accents, accentuated by a gray and black cape and train inspired by the movie Dune. We think she followed the "American" theme of the MET the most by unnecessarily bringing a weapon into a crowded event. 
Watch how she gets ready here:
Machine Gun Kelly and Megan Fox's chain manicure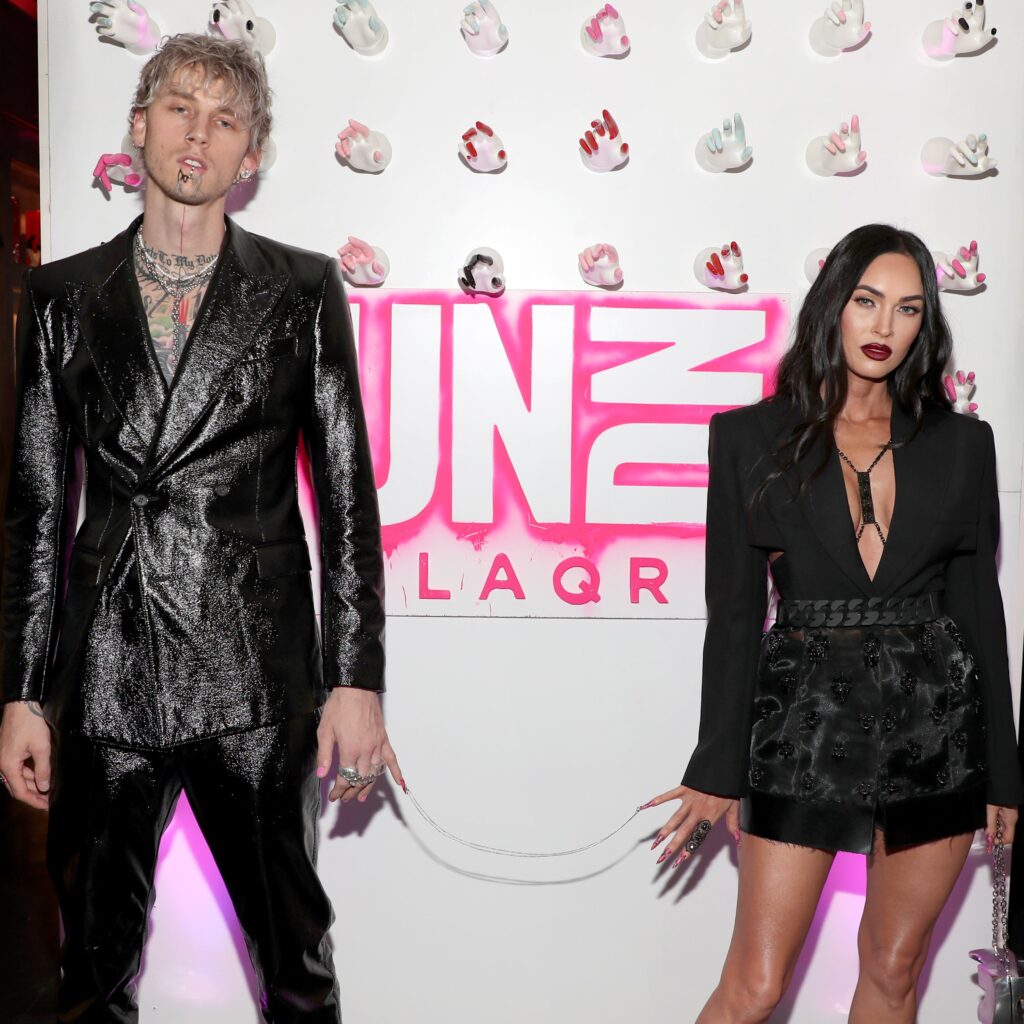 MGK and Megan Fox were synced (and linked) up thanks to their manicure game. The couple arrived at an event to celebrate Kelly's debut nail polish line, UN/DN LAQR, in West Hollywood chained together by their nail art. Our only concern is how do they, uh… pass water? We're personally not a fan, but it was iconic – we'll give them that. 
Virgil Abloh's final collection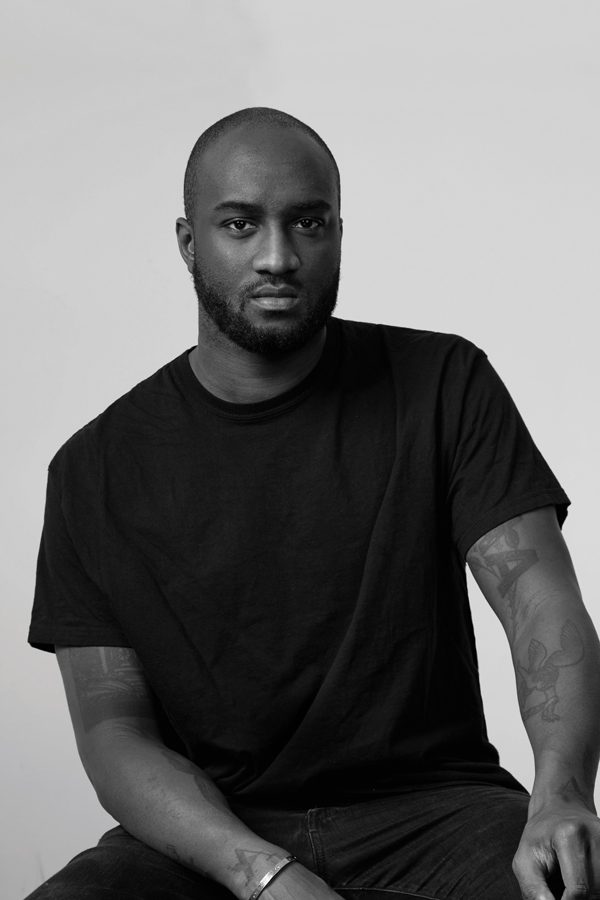 Early this month, Louis Vuitton unveiled the late designer's final collection (Men's F/W 2021 collection) in Miami to celebrate the creative director's life and legacy. Starring K-pop sensations, BTS, Abloh uniquely juxtaposed a 39-meter tall metal enclosure at Bucheon Art Bunker B39 with the vivid colours that make up his collection. The event, titled "Virgil was here," drew out many of Abloh's friends, collaborators, colleagues, muses, and others. 
Watch the show below:
Bella Hadid at Cannes Premiere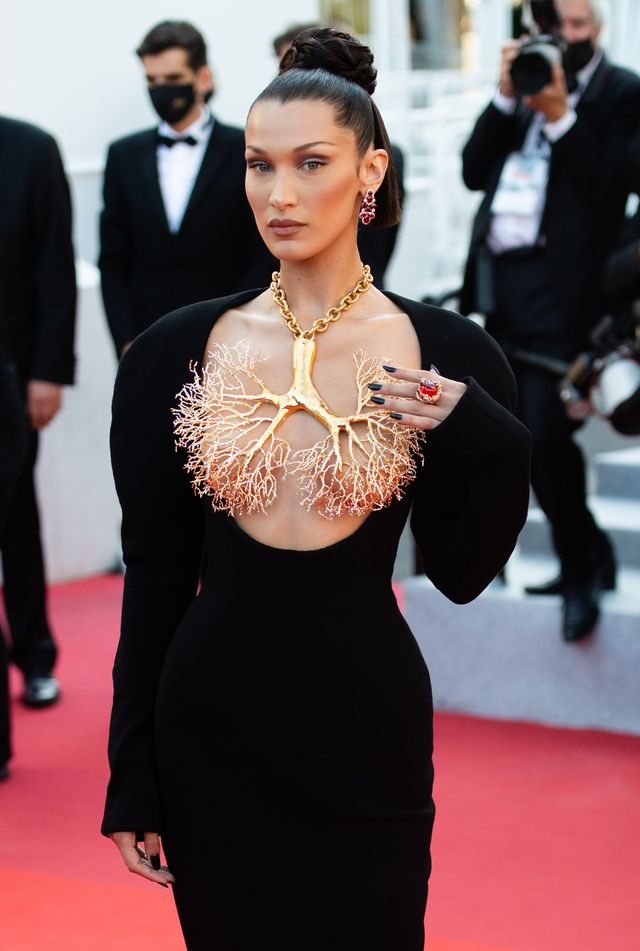 One of the most stunning high-fashion looks of the 74th annual Cannes Film Festival so far. Are any more words necessary? Like… look at that form-fitting black wool dress with a neckline that cut under Hadid's chest, which was covered by a gold-dipped necklace in the shape of the bronchi passageway of the lungs, adorned with rhinestones. Drop dead gorgeous… 
Billy Porter at the Cinderella press tour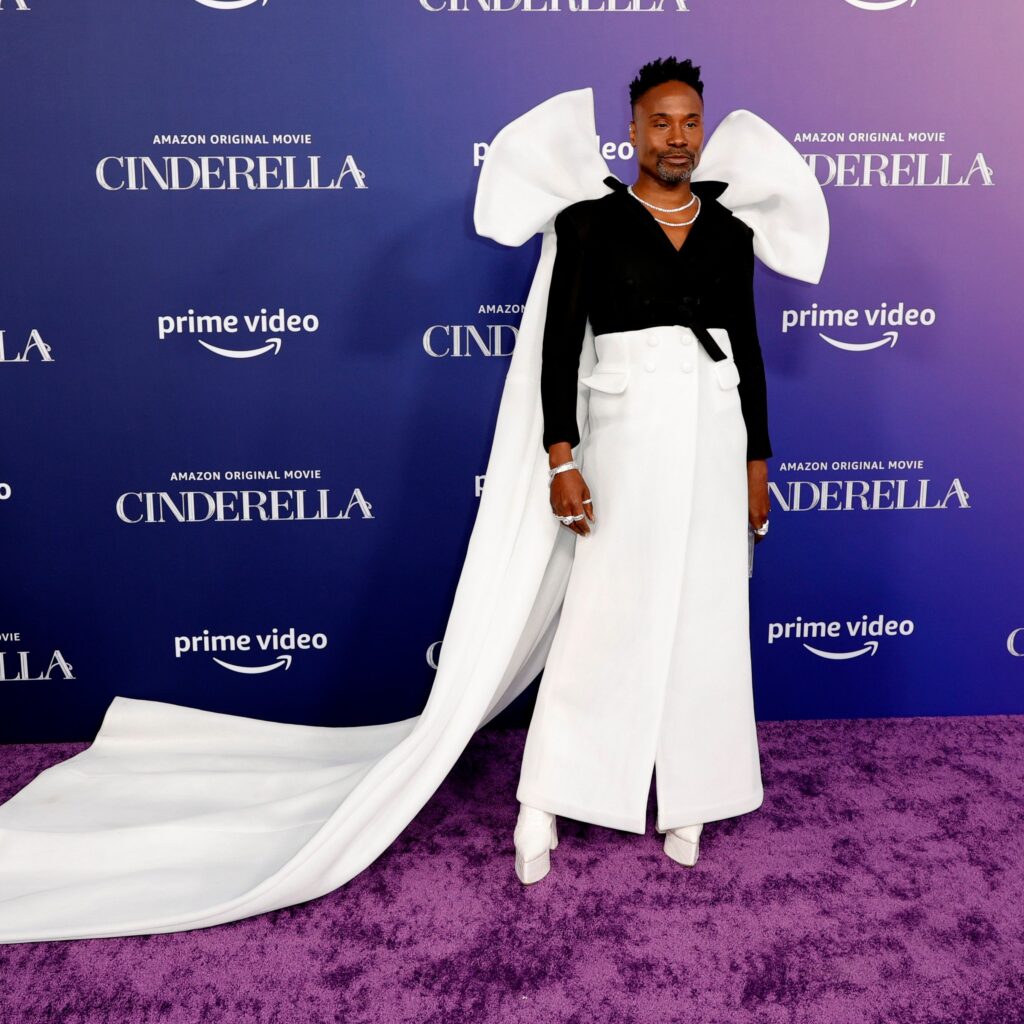 Porter kicked off the movie's press tour in fabulous style – all that was missing was a magical wand. Now, Porter is no stranger to going BIG for his red carpet looks. So, something tells us this is only the beginning, and that many memorable statement looks will be delivered from Porter. What a time to be alive!
Fendi x Skims collab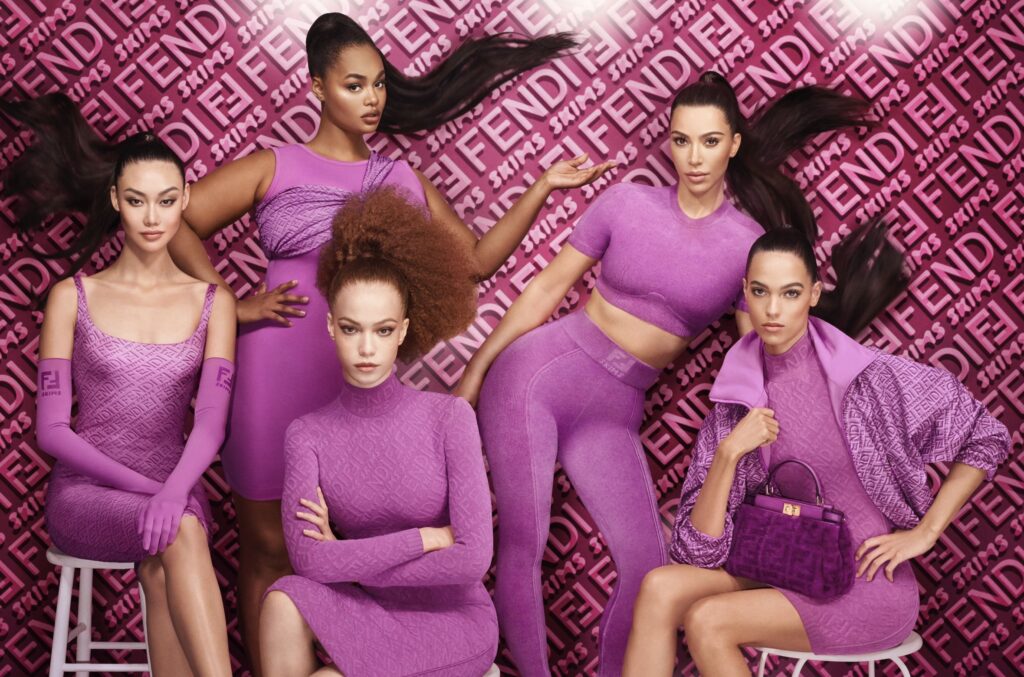 This was surely a collaboration no one saw coming. Kim Kardashian's Skims and Milanese luxury house Fendi joined forces to create a body-sculpting collection plastered with dual monogram logos. 
Everything Zendaya wore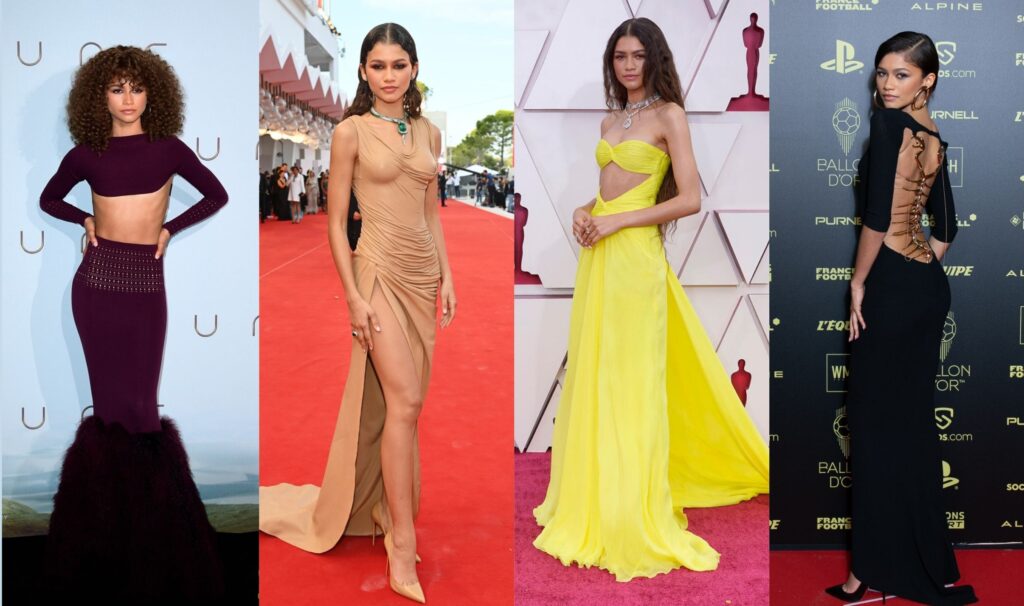 This was really the year of gasping at Zendaya's fashion. Every time the actor stepped on a red carpet, she was THE moment. The Dune press run, the Venice Film Festival, the Oscars, the Ballon d'Or France Football award ceremony – everywhere she went. Can we wait to see what Zendaya and her stylist have in store for us next year? Absolutely NOT!
Harry Styles' Halloween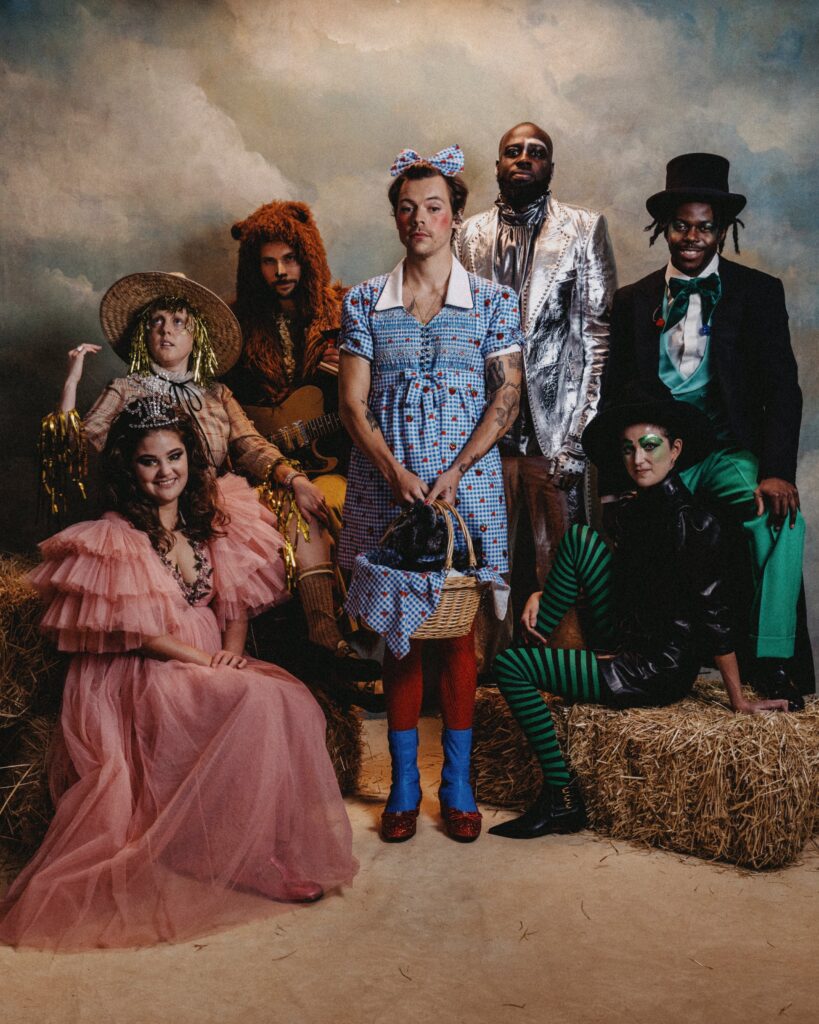 The "Watermelon Sugar" artist isn't known to shy away from gender-breaking style choices. Harry Styles, along with his Love On Tour bandmates, dressed in Wizard of Oz-themed costumes with Dorothy's outfit donned by none other than Styles himself.
Lady Gaga in Gucci
It was one of the most highly-anticipated movie releases of the year – and The House of Gucci's Lady Gaga brought more than a dash of drama to the red carpet premiere. The singer and actress wore a custom Gucci to the London event, opting for a regal purple gown with enormous sleeves. She gave it all a very Gaga finish by teaming it with fishnet tights, platform boots and sheer black gloves.
Let us know if we've missed any, and if you agree that MGK and Megan Fox's chain manicure thingamajig was… weird.