Finding the perfect foundation formula for oily skin can be a real struggle. Some powder foundations settle into fine creases and wrinkles, while liquid foundations can make oily skin look glossy (in a bad way, obvi). Both can, however, work if the balance is just perfect.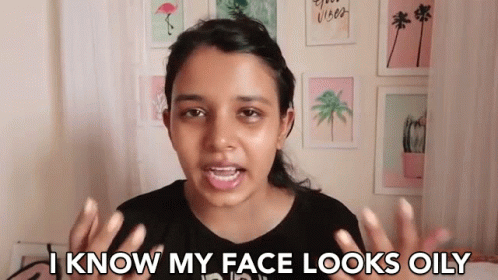 Recently on Vogue's Beauty Series on Youtube, Vanessa Hudgens graced us with her beauty routine when she embarks on a night out with her friends and FYI, she has oily skin. However, despite possessing oily skin, Hollywood actress Vanessa Hudgens has a very light foundation regimen and knows how to leave her house with a very luminous finish on her skin.
I have like really oily skin. It has always been that way for as long as I can remember.
She explained all the detailed steps of her routine in the video and we have taken the courtesy of breaking down some of her tips and tricks, including the products and where to find them, for you oily skin girlies!
Prep Your Skin As Little As Possible
Excess shine may be avoided by using as little product as possible on your face, which is why Hudgens only uses two items for her skin prep routine. To prepare her complexion for a night out, Hudgens simply applies Know Beauty's Purifying Cleanser and Calming Day Moisturizer. It goes without saying that any cleanser and moisturiser that is appropriate for your skin type will suffice!
I don't want to put any serum or oil or anything, that's purely a nighttime thing for me just because I'm so oily. I just do a moisturizer.
Opt For A Concealer To Add Coverage
Hudgens uses her favorite concealer from Rare Beauty (shout out to Selena Gomez!) to offer light coverage in areas that are often red which includes around her mouth. Hudgens swears by this product and loves how it "disappears and just gives you a flawless finish".
With oily skin, there is no such thing as "more is more". It's usually best to use less products on your face. The actress' approach helps her to fix her problem areas without heaping on too much beauty and make-up products and helps to keep an oily, cakey appearance at bay.
Buy Rare Beauty Liquid Touch Brightening Concealer Here
Top It Off With A Powder Foundation
Instead of liquid foundations, however, Hudgens adores powder foundation to finish her base makeup and the one that she applies is Bare Minerals BarePro Performance Wear Powder Foundation. She uses the powder foundation after applying her concealer to smooth out her complexion with her shade.
I really love this because it's got great coverage but you can still see skin underneath it. I hate it when you can't see skin. This is great because I'm so oily and it just kind of sucks it up, and keeps me looking dewy and not greasy.
Just note that when picking the right foundation for your skin type be sure to go for non-comedogenic foundations if you have oily or acne-prone skin. We swear it really won't clog your pores and leave your skin with a dewy finish like Miss Vanessa Hudgens.
Buy Bare Minerals BarePro Performance Wear Powder Foundation Here
To me, the most beautiful thing is natural beauty. So, using makeup to really amplify that but not cover up what makes you YOU is to me the most beautiful – Vanessa Hudgens
For more tips from the iconic Vanessa Hudgens herself, watch her Vogue Beauty Series right here:
More celeb beauty tips? Read here: 
4 Beauty Secrets Sandra Bullock Swears By For A Youthful Skin