Mila kunis and ashton Kutcher are literally the 'perfect couple' and are epitomes of relationship goals. We loved seeing them sharing the screen since That 70's Show and even off-screen with their witty humour.
Recently, they were guests on Dax Shepard's podcast, Armchair Expert, and they revealed that they do not bathe their kids very often. This statement raised many eyebrows and got the world chattering about their personal hygiene in the social media. Being a sport they are, it did not offend them at all and they took the criticisms with a pinch of salt.
Being in a hygiene-obsessed society, our "curiosity buttons" turned ON and we need to delve deeper into finding out why do they, despite being a household name, don't prefer to bathe their kids. So let's go!
The couple met during filming the popular series, That 70's Show and finally got together more than a decade later. They tied the knot in 2015 and are lucky parents of daughter Wyatt and son Dimitri.
Mila admitted she doesn't wash her body with soap every day, except her vitals. As a child, she grew up not having hot water to bathe, so she didn't bother showering daily. "I wasn't that parent that bathed my newborns, ever," the actress added. Additionally, she had facial skin issued in which she spent a lot of time and money getting laser treatments and "investing in really expensive estheticians."
Shepard recommended she stop using products to wash her wash altogether. "You shouldn't be getting rid of all the natural oil on your skin with a bar of soap every day. It's insane. [Use] water!"
Her husband supports this habit by explaining that, "If you can see the dirt on them, clean them. Otherwise there's no point."
According to some dermatologists, we should shower every other day or 2 to 3 times a week. Some prefer to shower once in the morning, after the gym or at night before bed. Our practice of showering might be more about daily habits than health. Personal hygiene is important to us and those around us. Too much bathing however strips the body and hair of its natural oils, leading to skin drying out or overproduction of new oil. Bathing too often with soaps during dry weather or winter seasons can leave your skin feeling flaky and cracked which leads to itching.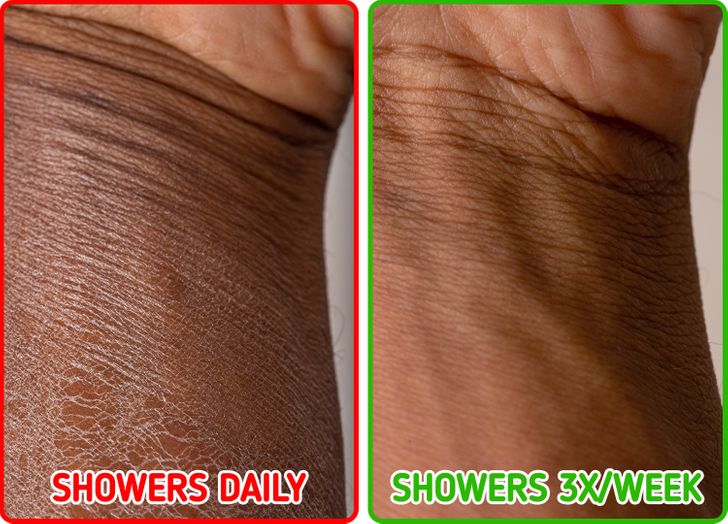 Recently, the couple took on social media with a bone-tickling response to many backlashes they received about not bathing their children. The video posted on Ashton's Instagram was nothing but humourous and light-hearted.
So if you want to emulate the same approach as Mila and Ashton, bathe yourself and your kids daily with only water, but use soap to clean the vitals. Give it try, you may even save money on soaps!