Following Carrie Fisher's unexpected death at age 60, her latest memoir, The Princess Diarist, is an unexpectedly emotional read. But readers would soon find out that the emotions aren't grief and nostalgia as expected. There's alarm and sympathy too. The book is also where the world found out of the short lived and intense affair between Fisher and Harrison Ford.
Early in the book, Fisher tells an appalling story that she presents as a cheery little romp. London, 1977 sees the filming of Star Wars: A New Hope and also George Lucas' birthday party which Fisher attends. She also explains that she was "essentially the only girl" in a room full of heavy drinking crew who are loudly talking about how they'd rather shoot in "a nice remote location…where there's no bloody shortage of strange but friendly quim (this was slang for vagina)."
It's important to note that Fisher was 19 at the time and, by her own admission, " naïve and agonizingly insecure". So when the rowdy crew members briefly stop teasing her and decide to get her drunk, she obliges even though she hates the taste and effect of alcohol. "It makes me stupid, sick, and unconscious really fast," she admits. "I've never actually been drunk – just senseless and inert."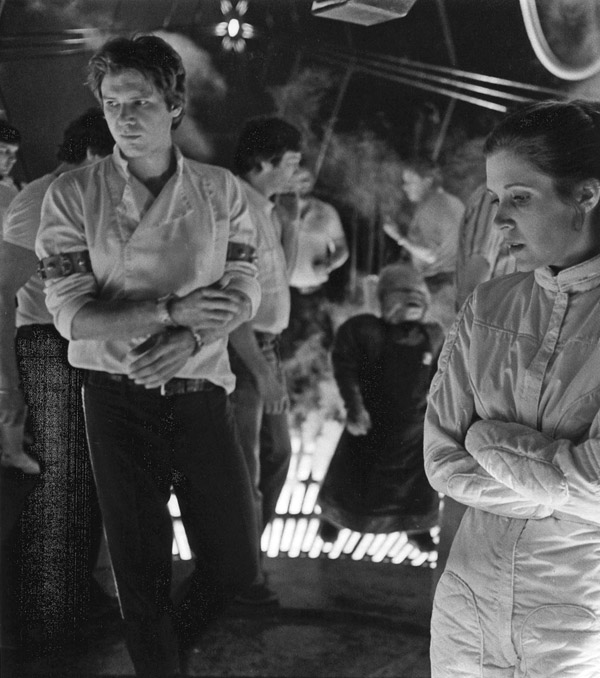 But Fisher also feels the need to fit in. So after a couple of drinks, she's practically incoherent, at which point several men start to surround her and try to get her out of the party, "to wherever movie crews take young actresses when they want to establish that the actress belongs to them."
Disgusting, right? But that's not all.
Suddenly, Harrison Ford swoops in with what seems like the perfect romcom setting only IRL and goes "Pardon me, but the lady doesn't seem to be very aware of what she wants." to a crew member who insists that she wanted to get a little air.
An argument rapidly breaks out at which point Ford yanks Fisher away from the party and into a car. And makes out with her. It's also important to note that Ford is 14 years older than her besides being married with two children and she was drunk. Also, he JUST said that she isn't aware enough to make rational decisions.
And that's how their affair started – the affair everyone was talking about with such passion and pop culture delight when The Princess Diarist hit stores a couple of weeks back.
I mean, THE real-life Princess Leia and Han Solo, got it on while shooting Star Wars in all their iconic hotness, then kept it a secret for nearly 40 years. What a story, right?
But TBH, I don't see how the affair started is deemed as cute when for the most part it feels like a bunch of older man taking advantage of a drunk younger girl. And there's nothing sexy, sweet, or even appealing about Fisher's three months with Ford as told in her book.
And it's especially disturbing and dysfunctional how everyone's portrayed their brief relationship with such giddiness of fandom fantasies coming true.
A large part of the Princess Diarist is devoted to her talking mournfully about their hook-ups. While carefully avoiding any intimate details, she portrays Ford as monosyllabic and intimidating. In public, she says, he largely ignored her. In private, they had sex, but barely spoke to each other. And the only real hint of tenderness or even affection between them comes in an anecdote where she does an impression of him to make him laugh.
Princess Diarist is especially sad following Fisher's death, because it leaves a final impression not as the adult we have all come to know, but as the teenager she was – at her most vulnerable. The book doesn't have any warm and thoughtful conclusions where Fisher realizes the affair was emotionally traumatic for her, or that she wasn't entirely to blame for it going badly.
Instead, Fisher worries that she's still awkward around Ford, and that she makes him uncomfortable. In effect, she becomes a lovelorn, awkward 19-year-old version of herself when it comes to talking about him, "While there's still time for Carrison to grow old together, that gateway is steadily closing. If we're going to get back together we're going to have to do it soon."
The Princess Diarist leaves that story untold, and her death leaves it hanging. There was never a good time to have lost Carrie Fisher. But losing her with an incomplete story does feel like a tragedy.
You'll be in our memories always, Carrie.
[Source]