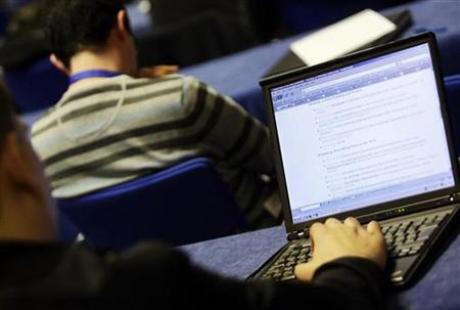 Notebooks may also be known as laptops but they're definitely not something that should go onto the top of your lap especially if you're a guy. According to researchers, it has been found that heat transmitted from a laptop to a guy's lap and ultimately their scrotum can affect and even damage sperm. As their legs are usually closed to keep a laptop balanced on their lap, their scrotums will heat up quickly – within 10 to 15 minutes – to a dangerous temperature and the guys won't even feel a thing. A research was conducted on 29 young men and it was found that even with a lap pad under the computer, the men's scrotums will overheat quickly.
Even with the help of lap pads, pillows and such to act as a shield between the laptop and the men's lap, the researchers stated that they're not enough to protect them from the heat. Even with their legs positioned wide apart to allow for air flow in that area, it will still take less than 30 minutes before they began overheating.
There are no studies done to see if this problem can affect these men's fertility but other research found that even a 1 degree Celsius rise of temperature in their reproductive area is enough to damage sperm. Although there is no solid proof that if these men carry on using their laptop on their lap for long periods of time could cause them to become infertile, Dr. Yefim Sheynkin, a urologist at the States University of New York at Stony Brook, said that it could contribute to reproductive problems.
If you're trying to conceive a baby or would want to have a baby in the future, it's better to be safe than sorry. Although infertility could be caused by general health and lifestyle factors, there're no reasons to increase the risk of infertility.
(Source: Reuters)