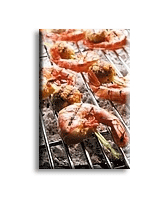 Shrimps are yummy, here's a recipe to share.
Ingredients:
Juice of One Orange
Juice of One Lemon
1/3 cup of Dijon mustard
1 tsp. of Tabasco
1 tsp. chopped garlic
1 tsp. Worcestershire sauce
3 heaping TBS. dry jerk seasoning
¼ cup Paprika
½ tsp. black pepper
½ tsp. cayenne pepper
1 tsp. cider vinegar
¼ cup olive oil
20 medium-sized shrimp, peeled and devained.
Preparation:
Make the Cajun coating by combining the above ingredients.
Mix well in a bowl.
Preheat grill.
Dip shrimp into the Cajun mix to coat evenly.
Place on hot grill and cook each side (5 to 8 minutes= TOTAL grilling time).
Enjoy hot or cold with lemon.
Source : fingerfoodrecipes