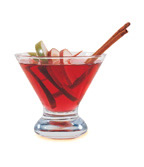 Apples have long been a favorite cocktail flavor. Whether it is hot apple cider, chilled apple juice or one of the tasty apple brandies, the flavor of the apple makes a great foundation for many mixed drinks. Try this recipe by Claus Meyer from Asian Food Channel. Enjoy it 🙂
Ingredients:
About 15 glasses
1 l fresh-pressed apple juice
1 l sugar beet juice
1 cinnamon stick
3 star anises
3 whole cloves
1 dl apple vinegar
10 whole black peppercorns
2 dl liquor or dark rum
Method:
Bring all the ingredients (except the spirits) to a boil. As soon as a boil is achieved, remove from heat for 5-10 minutes. Add the liquor or dark rum.
The punch can be enjoyed hot, or cold over ice cubes in a glass as a welcoming drink for guests. 🙂
Source: AFC