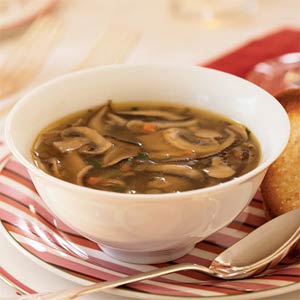 This simple Japanese soup is quick and easy to do. Serve as part of a Japanese meal.
Ingredients
Instant Dashi – 2tsp
Water- 4 cups
Soft bean curd- 200g, cut into 1-cm cubes.
Honshimeji mushroom- 200g
Red miso paste- 3-4 tsp
Spring onion (scallion) – 1, chopped
Method
In a deep pot, add dashi to water and bring to the boil
Add bean curd cubes and mushrooms, simmer gently for 3-5 minutes, or until mushrooms are cooked.
Stir miso paste until it dissolves completely. Remove from heat and ladle into bowls. Garnish with spring onion and serve hot.
Note: Be careful not to over boil the soup as miso paste will lose its flavor.