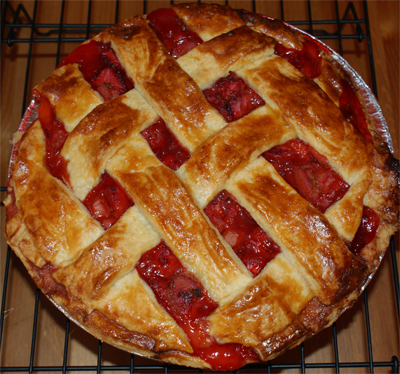 Tomorrow is weekend!!! I believe most of you must have plan to cook something special for lunch, but did you plan anything for "Tea Time" perhaps no? No worries… here I have something sweet and delicious by Anna Olson, one of  the famous chef from Asian Food Channel. Trust me this Strawberry rhubarb pie will make a lovely evening tea time for you and your loved ones…
Ingredients:
For Crust:
1 ¼ cups all purpose flour
¼ tsp salt
1/4 cup unsalted butter
1/4 cup vegetable shortening
1 Tbsp lemon juice
3 to 5 Tbsp cold water
For Fruit:
4 cups rhubarb, chopped
2 cups strawberries, hulled and sliced
1 cup sugar
3 Tbsp cornstarch
½ tsp cinnamon
1/4 tsp ground ginger
dash salt
For Crumble Topping:
2/3 cup all purpose flour
1/2 cup sugar
1/4 tsp nutmeg
dash salt
1/4 cup unsalted butter, melted
Method:
1. For pastry combine flour with salt. Cut in butter and shortening until a roughly even crumbly texture. Add lemon juice and water and blend just until dough comes together. Shape into a disc, wrap and chill for 30 minutes.
2. Preheat oven to 400° F. On a lightly floured surface, roll out dough into a circle large enough to fit a 9-inch pie pan. Line pan with pastry, trim and cinch edges. Chill until ready to fill.
3. Toss rhubarb and strawberries with sugar, cornstarch, spices and salt to coat. Fill pie shell with fruit.
4. For crumble topping, combine flour, sugar, nutmeg and salt. Stir in melted butter just until crumbly and spread over fruit. Bake pie on a tray at 400° F for 20 minutes, then reduce heat to 350° F and bake for about 40 minutes more, until filling is bubbling. If crust edge is browning too quickly, cover edges with a thin strip of tin foil.
Why not get to the nearest supermarket and get all the ingredients for the recipe before you go home. Enjoy your weekend!!! 🙂
Source:Anna Olson