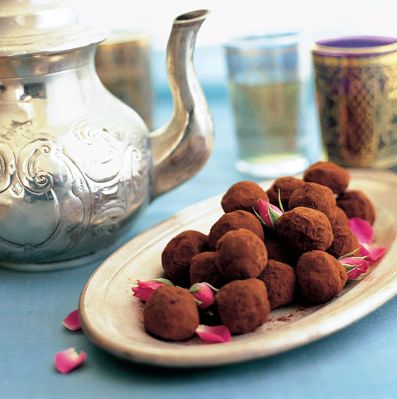 Every bridal shower needs a signature cocktail.
For brides who wants to give something back to show your friends and family how much you appreciate them with something sweet and edible party favors. Your can make by yourself… These are far easier to make than you might think and also are a thoughtful and impressive gift. Give yourself a try 🙂 and I'm very sure that  you will love it! The recipe is give below :
Ingredients:
1/2 cup(s) plus 1 Tbsp. crème fraîche
1 tablespoon(s) plus 1 tsp. unsalted butter
1/2 ounce(s) black currant tea (approximately 2 Tbsp. loose tea or tea leaves from 6 tea bags)
10 ounce(s) semisweet chocolate, finely chopped
Unsweetened cocoa
Directions:
In a small saucepan, combine crème fraîche, butter, and 2 tablespoons water. Bring to a boil. Remove from heat and add tea. Cover and let steep 5 minutes. Strain mixture through a fine sieve into a clean saucepan.
Put chocolate into a medium-size bowl. Bring crème fraîche mixture to a boil again and pour over chocolate. Stir gently until all chocolate is melted (do not whisk). Pour into a 9-inch baking pan and spread evenly. Chill until firm.
Line a cookie sheet with waxed paper. Using a melon baller, scoop chocolate to form balls about 3/4 inch in diameter, then roll gently into balls using palms. When rolling truffles, you can wear vinyl or latex gloves, or use your bare hands, if you dust your palms with cocoa powder. Without gloves the rolling will be easier, but not less messy. Place truffles on lined cookie sheet; cover and chill just to set, about 1 hour.
To serve, place cocoa in a pie pan. Add several truffles one at a time to cocoa and swirl pan to coat. Transfer to serving plate or place truffles in mini muffin cups (available at grocery stores).
Source: Delish