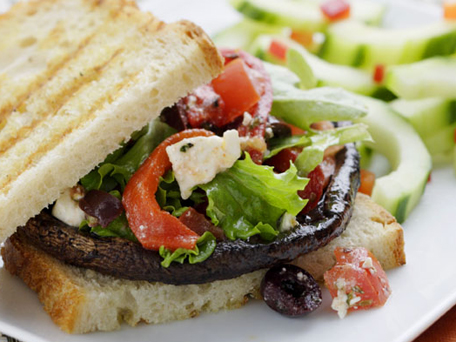 Do you wait until the weekend to grill because you think you just don't have time for a weeknight cookout? That's about to change. These quick and easy main combos are perfect for weeknight dinners.  This dish is ready in 30 minutes or less. Try it the recipe is below.
Things that you need:
1 clove(s) garlic, minced
1/2 teaspoon(s) kosher salt
2 tablespoon(s) extra-virgin olive oil, divided
4  portobello mushroom caps, stems and gills removed
4 slice(s) country-style sourdough bread, cut in half
1/2 cup(s) sliced jarred roasted red peppers
1/2 cup(s) chopped tomato
1/4 cup(s) crumbled reduced-fat feta cheese
2 tablespoon(s) chopped pitted Kalamata olives
1 tablespoon(s) red-wine vinegar
1/2 teaspoon(s) dried oregano
2 cup(s) loosely packed mixed baby salad greens
How to prepare it:
Preheat grill to medium-high.
Mash garlic and salt on a cutting board with the side of a knife until it's a smooth paste. Mix the paste with 1 tablespoon oil in a small dish. Lightly brush the oil mixture over portobellos and then on one side of each slice of bread.
Combine red peppers, tomato, feta, olives, vinegar, oregano and the remaining 1 tablespoon oil in a medium bowl.
Grill the mushroom caps until tender, about 4 minutes per side; grill the bread until crisp, about 1 minute per side.
Toss salad greens with the red pepper mixture. Place the grilled mushrooms top-side down on 4 half-slices of the bread. Top with the salad mixture and the remaining bread.
Enjoy your meal with your loved ones 🙂
Source: Delish