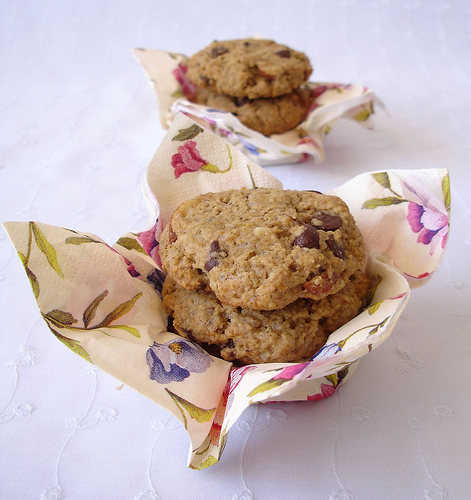 Here's a new take on an American Classic. Tahini(Sesame Paste) makes the cookies sophisticated for adults and lower in saturated fat, while brown sugar and chocolate keeps them ever so delicious for the whole family, so now you no need to be worried for weekend tea time… you can bake this lovely Oatmeal Chocolate chips… for your families….. Enjoy it!!!
Things that you need:
2 cup(s) rolled oats (not quick-cooking)
1/2 cup(s) all-purpose flour
1/2 cup(s) whole-wheat pastry flour (see Tips & Techniques)
1 teaspoon(s) ground cinnamon
1/2 teaspoon(s) baking soda
1/2 teaspoon(s) salt
1/2 cup(s) tahini (see Tips & Techniques)
4 tablespoon(s) cold unsalted butter, cut into pieces
2/3 cup(s) granulated sugar, or 1/3 cup Splenda
2/3 cup(s) packed light brown sugar
1  large egg
1  large egg white
1 tablespoon(s) vanilla extract
1 cup(s) semisweet or bittersweet chocolate chips
1/2 cup(s) chopped walnuts
How to prepare it :
Position racks in the upper and lower thirds of the oven; preheat to 350°F. Line 2 baking sheets with parchment paper.
Whisk oats, all-purpose flour, whole-wheat flour, cinnamon, baking soda and salt in a medium bowl. Beat tahini and butter in a large bowl with an electric mixer until blended into a paste. Add granulated sugar (or Splenda) and brown sugar; continue beating until well combined-the mixture will still be a little grainy. Beat in egg, then egg white, then vanilla. Stir in the oat mixture with a wooden spoon until just moistened. Stir in chocolate chips and walnuts.
With damp hands, roll 1 tablespoon of the batter into a ball, place it on a prepared baking sheet and flatten it until squat, but don't let the sides crack. Continue with the remaining batter, spacing the flattened balls 2 inches apart.
Bake the cookies until golden brown, about 16 minutes, switching the pans back to front and top to bottom halfway through. Cool on the pans for 2 minutes, then transfer the cookies to a wire rack to cool completely. Let the pans cool for a few minutes before baking another batch.
Source: Delish