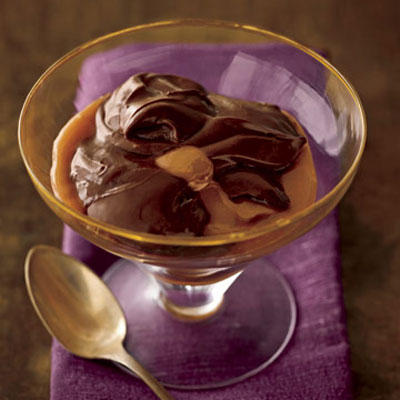 Want to try something new and tasty for dessert. This rich, creamy pudding calls for both dark chocolate and cocoa powder. Homemade chocolate pudding is one dessert that's equally popular among kids and adults.
Ingredients that you need:
7 ounce(s) dark chocolate
2 cup(s) whole milk
1 cup(s) heavy cream
3/4 cup(s) sugar
1/4 cup(s) cocoa
1/4 teaspoon(s) salt
1/4 cup(s) cornstarch
1/4 cup(s) (1/2 stick) butter
3/4 teaspoon(s) vanilla extract
How to prepare it:
· Chop the chocolate into very fine pieces. Combine chocolate, 1 3/4 cups milk, cream, sugar, cocoa, and salt in a large saucepan. Stir vigorously using a whisk over medium heat until mixture simmers and is smooth and thick. Stir the remaining 1/4 cup milk and cornstarch together and whisk into the chocolate mixture. Simmer for a minute, whisking and scraping down the sides with a rubber spatula. Add the butter and cook 1 more minute. Stir in vanilla.
· Serve pudding on its own or use for the filling in the Crepe Cake.. Store refrigerated in an airtight container with plastic wrap pressed directly onto the pudding surface to prevent a skin from forming.
This method is based on 1 or 2 cup for serving… This recipe will leave you licking the bowl… Try it… You and your kids will enjoy it.
Source:Delish