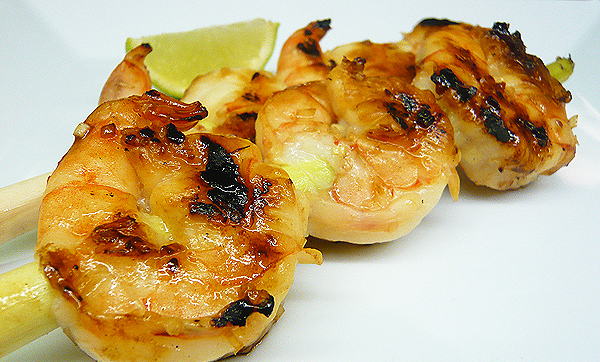 Want to whip up something different yet manageable? Hungry family demanding something quick, tasty and healthy straight from the home kitchen? I know how challenging life can be for the working adult who has to juggle job stress with various other responsibilities. But that should also not stop you from experimenting with cuisines other than Indian-anyway for Indian recipes you can always turn to your mom. Here i have a delicious recipe, easy to follow, step by step guide to some contemporary dishes.
Ingredients
15-20 large prawns, slit at the back
Bamboo skewer
cooking oil
Sauce Ingredients
1 Clove garlic, chopped
5-6 bird's eye chilly, sliced
3 tbsps light soy sauce or to taste
1 tsp dark soy sauce
2/4 tsp sesame oil
1/4 tsp ground pepper
Method
Using a sharp knife, slit the back of the prawns and de-vein.
In a large bowl, combined sauce ingredients and toss in de-veined prawns. Marinade for about 30 minutes. Using bamboo skewers, thread each marinated prawn onto each skewer.
Heat a griddle/grill with some oil, place the prawns on & baste with the marinade. Cook turning over once & serve immediately.
Enjoy you meal =)