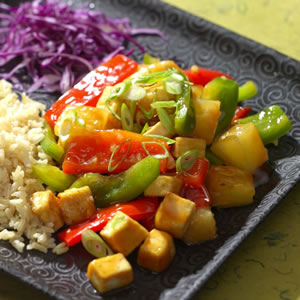 Fresh sweet and sour dish,  not cloying, taste. Here's the recipe. It only takes 20 minutes to prepare it.
Ingredients:
1 can(s) pineapple chunks or tidbits
5 teaspoon(s) rice vinegar
1 tablespoon(s) reduced-sodium soy sauce
1 tablespoon(s) ketchup
2 teaspoon(s) brown sugar
7 ounce(s) extra-firm, water-packed tofu
1 teaspoon(s) cornstarch
3 teaspoon(s) canola oil
1 tablespoon(s) minced garlic
2 teaspoon(s) minced ginger
1  large bell pepper
How to prepare:
Whisk the reserved 3 tablespoons pineapple juice, vinegar, soy sauce, ketchup and sugar in a small bowl until smooth. Place tofu in a medium bowl; toss with 2 tablespoons of the sauce. Let marinate for 5 minutes. Add cornstarch to the remaining sauce and whisk until smooth.
Heat 2 teaspoons oil in a large nonstick skillet over medium-high heat. Transfer the tofu to the skillet using a slotted spoon. Whisk any remaining marinade into the bowl of sauce. Cook the tofu, stirring every 1 to 2 minutes, until golden brown, 7 to 9 minutes total. Transfer the tofu to a plate.
Add the remaining 1 teaspoon oil to the skillet and heat over medium heat. Add garlic and ginger and cook, stirring constantly, until fragrant, about 30 seconds. Add bell pepper and cook, stirring often, until just tender, 2 to 3 minutes. Pour in the sauce and cook, stirring, until thickened, about 30 seconds. Add the tofu and pineapple chunks (or tidbits) and cook, stirring gently, until heated through, about 2 minutes more.
source : Stir fry