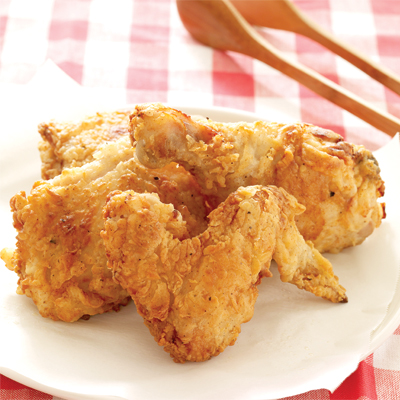 Most of us love fried chicken, but we cannot live on fried food alone. A big thank you to clever chefs that have perfected healthier oven-baked versions that tastes just as savory and juicy as the indulgent original.
Here I have simple and delicious classic fried chicken recipe. It is tasty and also this recipe can be served for 8 servings.
Ingredients

2 cup(s) buttermilk
2 tablespoon(s) hot pepper sauce
1 tablespoon(s) salt
2   chickens, each cut into 8 pieces
2 cup(s) flour
1 1/2 teaspoon(s) baking powder
1 teaspoon(s) black pepper
1 teaspoon(s) paprika
5 cup(s) vegetable oil , or shortening for frying
Directions
In extra-large (2- to 2 1/2-gallon) zip-top plastic bag, combine buttermilk, hot pepper sauce and 1 tsp. salt. Add chicken pieces, turning to coat. Seal bag, pressing out excess air. Place bag in bowl; refrigerate chicken for 2 to 24 hours to marinate, turning bag over once.
In pie plate or bowl, stir flour, baking powder, pepper, paprika and remaining 2 tsp. salt until well mixed. Remove a few pieces of chicken from buttermilk mixture, shaking off excess liquid. Add chicken to flour mixture, turning to coat well. Place chicken on wire rack set over waxed paper, without letting pieces touch. Repeat with remaining chicken pieces, using a second rack if necessary; let stand 15 minutes to set coating. Discard buttermilk mixture.
Meanwhile, preheat oven to 250ºF. Line two large cookie sheets with paper towels. Divide oil between two 12-inch skillets, preferably electric (there should be about 1/2 inch of oil in each skillet) and heat over medium heat until temperature reaches 360ºF on a deep-fry thermometer.
To each skillet, add 4 pieces of chicken, skin side down, being careful not to crowd pieces. Cover skillets and cook until chicken is light golden brown on the bottom, 4 to 5 minutes. Turn pieces over and cook, covered (reducing heat to medium-low, if necessary, to a temperature of 300ºF), 8 to 10 minutes longer for white meat, and 13 to 15 minutes longer for dark meat, turning pieces every 4 or 5 minutes. Chicken is done when well browned on all sides and juices run clear when thickest part is pierced with the tip of a knife.
Transfer chicken to lined cookie sheets to drain. Keep warm in oven. Repeat with remaining chicken.
Source :Fried Chicken