Paris, the City of Love. A charming and glitzy metropolis full of romance, glamour, history, arts and culture – and, of course, exquisite pastries. It's also home to a number of well-known people and products, including Embryolisse, a skincare line that is a backstage favourite among international makeup artists.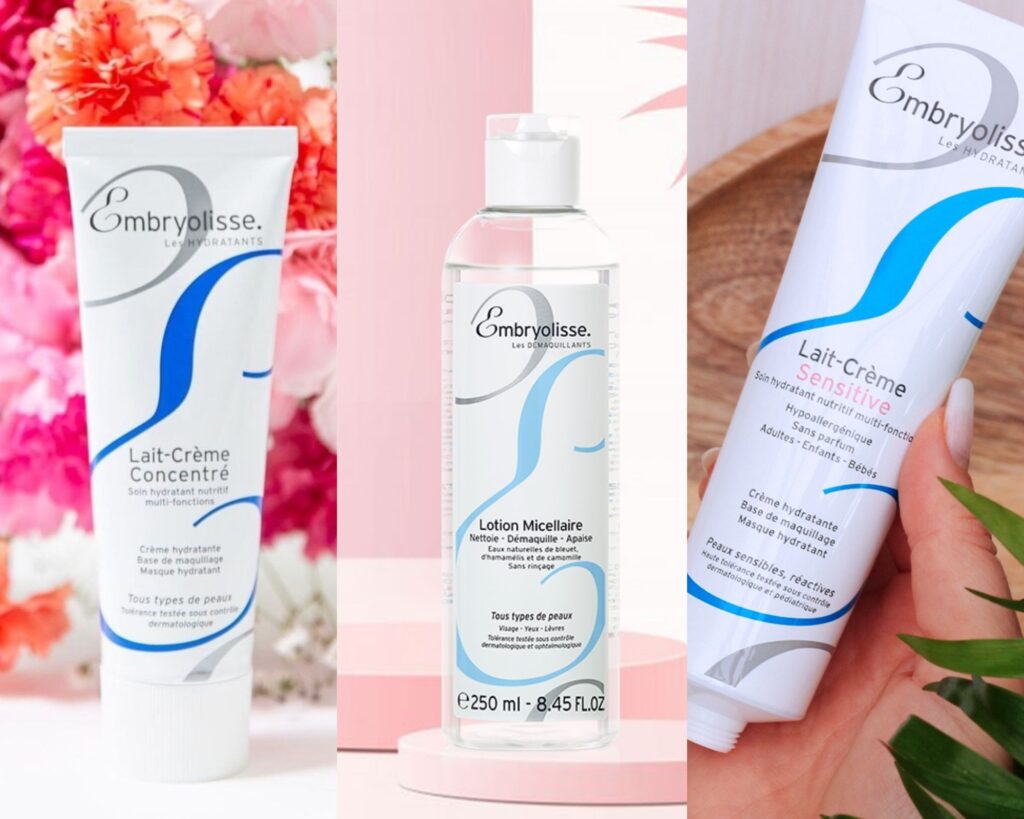 Dr. Tricot, a dermatologist, launched the company in 1950 with a simple purpose in mind: to create a universal treatment that would work for all skin kinds and conditions. Thus was developed the Lait-Crème Concentré, a multi-tasking cream that may be used as a primer, moisturizer, mask, cleanser, after-shave lotion, and makeup remover.
Because of its capacity to wash, moisturize, nourish, and protect even the most delicate skin, the Lait-Crème Concentré catapulted the brand from a pharmacy mainstay to a Fashion Week backstage must-have. Makeup professionals from all over the world have given the Lait-Crème Concentré their seal of approval, making it a cult favourite and a must-have for anybody, wherever.
Following the popularity of Lait-Crème Concentré, Embryolisse expanded their skincare line to include Lait-Crème Concentré Sensitive, Lotion Micellar, Sérum Bonne Mine, Eclat du Regard, and more products.
Embryolisse prioritizes natural components derived from flowers and fruits with well-known benefits and a long history of medical or cosmetic usage (shea butter, beeswax, aloe vera, soy), in combination with cutting-edge dermatological active substances like hyaluronic acid and collagen.
Lait-Crème Concentré Sensitive
Embryolisse Lait-Crème Sensitive is a hypoallergenic sensitive skin care product appropriate for the entire family. It has the same characteristics as the cult hit Lait-Crème Concentré, but in a fragrance-free formulation for delicate and reactive skin that contains 98 percent natural ingredients. It is also high in important fatty acids and vitamins, which nourish the skin, help it maintain moisture, and protect it from external aggressors.
The Lait-Crème Sensitive can be used in many ways, making it the essential product for the whole family's fragile skin. Skin care for all the family, it's soothing and tested under paediatric supervision. It's 7-in-1 multi-functional benefits are:
Moisturizer
Moisturizing mask
Makeup base
Cleaning / makeup remover milk
Body cream
Skincare for babies
After-shave lotion
Lotion Micellar
A gentle cleanser and make-up remover in a single product for the face, eyes, and lips. Micelles (gentle cleansing agents) in solution in cornflower, camomile, and witch-hazel water, mixed with glycerin to soften, soothe, and tone the skin, make this Micellar Lotion appropriate for even sensitive skin. Skin and eye irritation are well tolerated, and the product is quite effective.
Here's why you should consider Embryolisse:
1. There's no mess, no fuss – Embryolisse is a French skincare line that features products that are not only effective and easy to use, but also dermatologist-approved. Embryolisse has been true to its promise of simply providing the skin with what it needs to be healthy and well-nourished for the past 72 years.
2. The key to a flawless canvas from a cosmetics artist – To achieve that flawless makeup look, you must first master your base. Lait-Crème Concentré by Embryolisse hydrates your skin deeply for a smooth application.
3. The only multi-tasker you'll ever need is Embryolisse Lait-Crème Concentré – Did you know that the Lait-Crème Concentré can be used as a primer, day and night cream, moisturizing mask, cleanser, and shaving cream? It's fantastic for both the face and the body.
Embryolisse's DNA and primary objective is providing revolutionary products with all the nutrients and hydration the skin requires to be healthy and young. It's a dermatologist-approved skincare brand that blends appropriate active ingredients in the proper amounts to create products that are safe for even the most sensitive skin, allowing you to watch and feel your skin thrive in its healthiest state.
For more details, check out Embryolisse's Instagram and Facebook pages.

Embryolisse is sold at Guardian stores nationwide and online on Zalora Malaysia, Lazada Malaysia and Shopee Malaysia.
More on beauty? Read this:
J.Glow: J.Lo Just Dropped Her Morning Skincare Routine And We're In AWE!