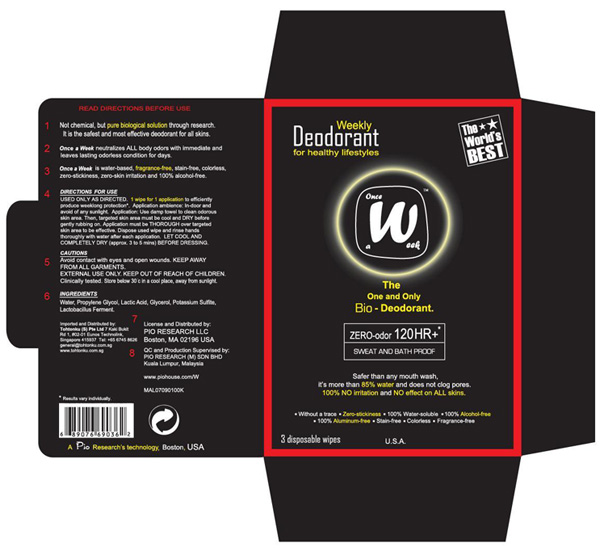 A revolutionary deodorant hits the shelves in selected drug stores in Malaysia. They claim that you only need to apply just once a week and you'll have odourless armpit for a week.
It's not like any ordinary deodorant, it's in a form of wipes and a box only contains 3 sachets. I'm unsure of the price as of yet, but I'm sure to try it when I get my hands on it.
The wipes are water soluble and contain 80% of water, thus it's odourless, colourless, stain-free and alcohol-free. Mind you, it's not an antiperspirant; hence it doesn't clog pores and cause any unhealthy side-effects. If you have read my other article on smelly armpits, you'd understand how and why some of us have bad body odours. Once A Week actually prevents these bacteria from multiplying. What amazes me is that it could last for a week after application, even after shower and bath.
Unfortunately, there are some side effects if you don't follow the instructions thoroughly. But don't worry it isn't life threatening, the wipes are advisable to be applied at night after shower before bedtime. This is because some of the chemical compounds found in the wipes are light sensitive, so your fingertips and the surrounding area around your armpits may turn orange or black when applied under bright light.
Once A Week deodorant is available in Guardian, Caring Pharmacy, Be Pharmacy and Vitacare Pharmacy. For more information on the product please visit 1wipe1week.