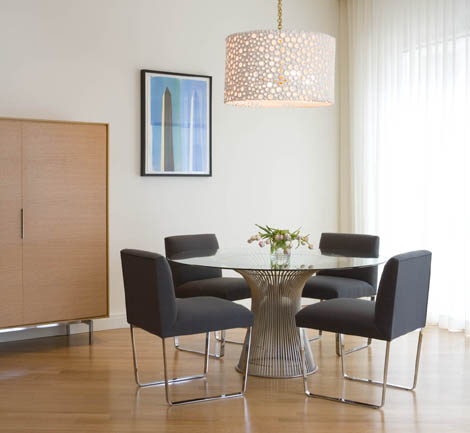 Dining area often needs to handle many family tasks like eating, homework, paying bills and game playing, to name a few. Try these simple organization strategies to help the space live up to its potential:
Add open and shut storage
If you also use the dining room for non dining activities, reconfigure it accordingly. Use out-of-sight storage (built-ins or a buffet) for games, files, and study materials so those supplies don't get in the way (physically or visually) of good meals.
Clear the table
It's a fact that flat surfaces attract clutter. Designate a bin for whatever tends to find a temporary home on the table. This can be permanent storage or just a way to move things to their rightful home.
Think outside the room
Don't feel that you have to put everything dining related into a hutch or sideboard. it's OK to split up a set of china if you're only using a few pieces. Consider more long term storage, such as hard to reach upper cabinets in the kitchen, for the extra pieces. Keep a list tacked inside your hutch door to remind you where the overflow is stored.