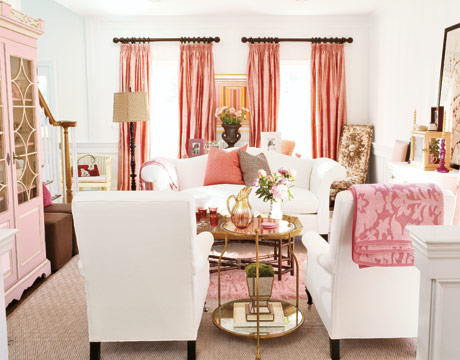 Color palette creates a successful smooth flow from room to room and can help a small house feel larger. Here's how to put color to work:
Spread the love around
Connecting with color doesn't mean every room should use exactly the same hues in the same proportions. For color to flow, start at the front door, then move that shade through the house along with others you pick up along the way. You don't need to migrate the entire palette every time-just pieces of it. For example, if you start with rich coral walls in the entry, carry that hue to pillows in the living room. Continuing through the house, the coral might evolve into pink in the bedrooms or even yellow in the kitchen.
Use art to transport color
Select artwork or make your own pieces featuring the dominant colors in your palette to help pull the hues neatly together.
Let architectural features provide a smooth transition
Trim work and molding create definitive starting and stopping points that make switching colors between rooms easier. To maintain a united front, keep your trim color consistent from room to room.