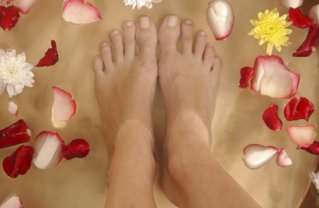 Don't spend too much time giving attention to your face, body, hands and arms. Think about your feet too. It carries you everywhere need to go and is the least cared for. Sometimes you need to pamper them as well and it doesn't cost a bomb. You needn't go for padicure, all you need is right at home or may need to purchase one or two things.
First, you need to soak your feet in nice warm water for at least about 15 to 20 minutes. Add in some essential oil or any soothing foot massage treatment. You can even add some rose petals for natural scent. Rub your feet together to gently massage them. Soaking your feet will help release any stress or tension and to soften your skin on your feet.
Second, you need to scrub your feet of all the dead skin cells. You can use any exfoliating scrub for feet or mix olive oil and seasalt and scrub your feet. Remember to focus on your heels and toes and around those rough skin area. If you soaked your feet well, those rough skin would be soft enough for your scrub to work wonders. Remember to rinse and dry before the third step.
Third, you need to moisturize your feet. You can use L'Occitane Foot Cream and any drug store brand. Don't moisturize the base of your feet, it'll be slippery. Moisturize your feet like would do your face and body. Dry skin aren't a good sight anywhere on your body.
There you have it, the whole process only takes about 30 minutes. You can always do this right after dinner while watching any of your favourite shows. It only takes a basin, towel and the needed ingredients to love your feet.