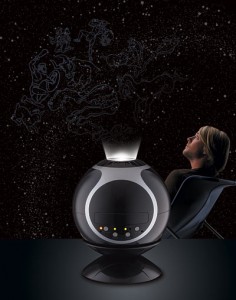 Living in a place where the sky is being blocked by skyscrapers, pollution and bright lights, I feel that I have lost the chance to view the stars. Till I came across this really cool gadget that turns any room at home into a planetarium. This nifty little device is small enough to fit in a room; just set it up in a room, switch off the lights, turn on the device and just sit back and enjoy watching the stars with a champagne in hand. If you're the one for romance and always wanted to consummate your love under the stars without being caught for indecency, now you can do it in the privacy of your own home.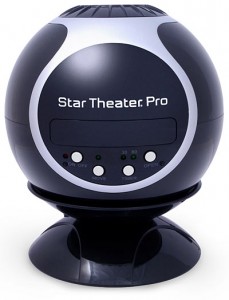 This device comes with an AC power adapter (you can also opt for three triple A batteries), two interchangeable high resolution image discs and a planetarium music disc.  The device has an adjustable projection angle, motorized image rotation and an automatic timer – which makes it pretty ideal for camping out in the living room under the stars.
There are also different discs available for different constellations just in case you're bored of looking at the same ol' spot. The Star Theatre Pro is something every indoor star lover should have.
(Source: walyou)