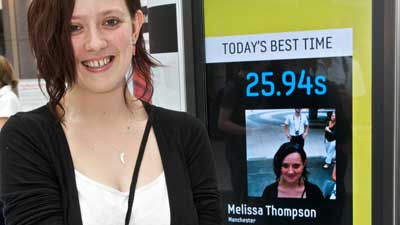 If you think that touch screen mobile devices are not friendly because they're hard to text in, then think again because a British girl has recently broken the Texting Record in the Guinness World Records. Although her application is still pending approval from Guinness, Melissa Thompson successfully typed out a long message in 25.94 seconds, breaking the previous record held by an American who typed out the same passage in 35.54 seconds.
The message read "the razor-toothed piranhas of the genera Serrasalmus and Pygocentrus are the most ferocious freshwater fish in the world. In reality they seldom attack a human".
Her success was achieved using Samsung's new Galazy S's Swype input method that literally allows users to swipe around the virtual keyboard to compose words. Wow, a whopping 10 seconds faster than the previous record holder, and she says that she haven't been texting as much as before.
(Source: Sky News)