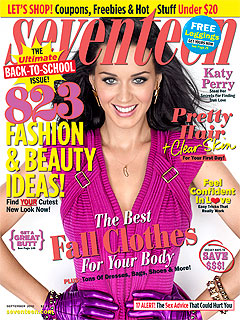 Were you guys at the MTV Worldstage 2010 at Sunway Surf Beach not too long ago? If you were, what did you think about Katy Perry? She was charismatic, energetic, engaging and very beautiful in the pale pink ballet costume, IMHO. She had the crowd eating from her hand with heads bobbing to her hit singles including her new one entitled 'Peacock' (don't ask).
She looked beautiful most of the time on magazine covers, music videos and un-'Photoshopped' appearances at events but in a recent Seventeen magazine interview she talks about how she feels that she is not pretty.
"I don't really feel pretty ever. Without makeup, I feel ugly. And so I would have to sleep with makeup on, or feel ugly and gross. He (Russell Brand) looks beyond all of that, which is such a win, because I've never felt that with anybody," Perry was quoted as saying.
The ironic part is before that, she talked about how her fiancé Russell Brand taught her about inner beauty and confidence. Katy Perry is a talented singer, dancer and overall wonderful personality but I feel that she needs to feel confident in her own skin. I have seen photos of her without makeup and to me, she is still as stunning as ever.
Cliché as it sounds, 'beauty is in the eye of the beholder' and we all should know that we are beautiful from the inside and outside because there ain't going to be another girl like you.
(Source:Bella Sugar)