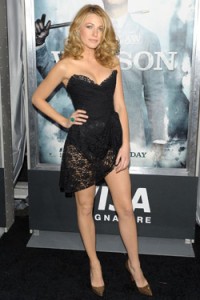 Based on an anonymous poll on a British website, apparently men who took the poll found pencil skirts more 'promiscuous' than miniskirts. I have nothing against British men but from the looks of this survey, and yes, I am generalizing, they have no idea at all! Probably they mistook a miniskirt of for a pencil skirt or simply because it is named a pencil skirt, they found it more 'promiscuous'. Men – they don't get us and we don't get them either. But for fashion fun's sake, let's laugh at the atrocity of the results and thank God that gay fashion designers create better designs.
The percentages show how 'promiscuous' a fashion trend is and the least number shows the top choice for 'promiscuity'.
The 'Bodycon' Dress – 57%
Crop Tops – 53%
Corset Tops – 51%
Lace – 45%
'Underwear as Outerwear' – 43%
Pencil Skirts – 38%
Knee-High Boots – 32%
Stiletto High Heels – 29%
Mini Skirts – 22%
10. Hipster Jeans – 19%
IMHO, I don't see how knee-high boots are "skankier" than stiletto high heels unless they are patent leather or have spikes. Crop tops are normally worn with a tank top underneath and are used for layering – I don't see how these men do not notice that. Well, I've never stepped foot on British soil before so maybe the women there really wear crop tops and nothing underneath.
(Source:New York Magazine)