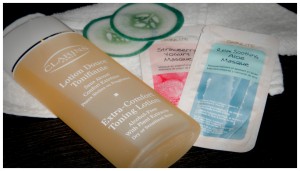 For someone like me, I seriously would love to pamper myself with a good facial at a beautician every now and then but because of monetory contraints, I gather it is more feasible to do it on my own sometimes. I save a little more and besides, how much extraction can you do in a month? If I did extractions everytime I go for a professionally done facial, I would be perpetually stuck with a red face. Anyway, before you tryout your own facials at home, you need to be aware of a few things.
Your skin type If you have sensitive skin, don't even think about using some off the shelf, dodgy China product. You may end up having to call for the help of a skin specialist when all hell breaks lose. Even if your skin isn't sensitive, you also need to know the type; whether it's oily, dry or combination. Usually if you're used to going to a  beautician, you would've been told about it already. Facials are to help you out, not make your complexion worse.
The timing Please. I implore you, do not even think about doing a facial before any important events like a date, a job interview, a wedding dinner or any such outings.  You would just be asking for trouble. Conducting a facial is like giving your skin some TLC yet at the same time forcing it to regenerate new skin cells to obtain a more radiant skin. So during that "regeneration" time, your skin might end up looking patchy and red; so in order to avoid the need of a bag over your head, you should plan a facial (especially home facials for the first time) a few days before an event to give your face time to rejuvenate itself.
So, now that you've taken heed of the abovementioned pointers, now decide whether you want to make your own products or just buy them from the store. Of course, not everything can be made but here are the basic things you need for a relaxing facial at home.
1. Facial cleanser
2. Facial scrub (these are not the same as body scrub. Using body scrub will probably scrub you whole face off as they're way too rough for your soft skin)
3. Cotton balls/squares
4. Toner
5. Facial mask
6. Slices of cucumber / used bags of chamomile tea (chilled)
7. Boiling water (to steam your face)
Give yourself about half an hour for the whole process. Don't rush it as a facial is suppose to relax you after all. The directions are quite easy too.
Clean up Remove your makeup properly and wash your face with facial cleanser. Use circular motions to get all the dirt out more easily.
Exfoliate Gently apply the facial scrub in circular motion. Avoid the eyes as the skin there is too sensitive to scrub.
Steaming To steam your face, first you need to boil the water. When the water has boiled, place it in a large bowl. Place your face close to the water (about 1 foot away) and cover your head with a towel to preserve the steam. It should feel nice not suffocating. If you feel your face burning, stop immediately. You're not trying to cook your face. If you want to, you can add some lavender, rose or chamomile essential oil into the water. Just put about two drops; that should be enough for about 10 minutes of steaming.
Extraction This is a tricky step. You can decide whether to skip it or not. Steaming your face earlier would've opened up the pores and eliminated most of your black heads and white heads but if you see any visible blackheads, you can use your nails wrapped in cotton to get them out. Don't mess around with pimples though, as you might end up making them worse. After you're done, apply toner with a cotton ball.
Mask There are so many types of mask out there, either made from natural ingredients found in the kitchen, or at most beauty stores. I'll write another article soon about the types of masks you can make at home, but for now, if you want to try out doing your mask, you can just purchase it. How do you choose the correct mask? Well, you need to know what does your skin need at the moment. If you feel your skin is oily, get a purifying mask. If it's dry or nothing is really the problem, just go for a moisturizing or hydrating mask. There are two types of masks sold; gel or paper. If you're using gel mask, just apply it evenly on your face (avoiding the eyes) and if you're using paper mask, open it up and place it on your face. Make sure the paper mask is touching your skin. After applying the mask, just lie down and put the chilled cucumber slices or chamomile tea bags on your eyes for about 15 – 20 minutes.
Finishing up When time's up, wash your face with lukewarm water and apply toner again. You can now either apply your favourite moisturizing cream or if you're going out and will be exposed to the sun, apply your sunscreen.
To feel more like you've just had a nice relaxing facial treatment, get yourself a nice cup of warm green tea or just plain water if you're just not up to doing anymore work.
Go ahead and try. You may find that being able to do facials so often without breaking your piggy bank to be relaxing and uplifting.