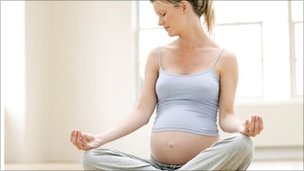 We all know that age, obesity, smoking and alcohol lower you chances of getting pregnant but did you know that stress is one of the factors as well? According to studies at Oxford University, women who have high level of stress hormones in their body have a reduced chance of getting pregnant.
The study involved 274 healthy women aged between 18-40 who are planning to get pregnant. Two different types of stress hormones – adrenalin, the body's fight or flight hormone, and cortisol, connected with chronic stress – were measured in their saliva. The research found that those with the highest level of adrenalin hormones had a 12% reduced chance of getting pregnant during their fertile days compared with those with lower levels of the same hormone. On the other hand, no difference of pregnancy chances was found with cortisol.
"'This is the first study to find that a biological measure of stress is associated with a woman's chances of becoming pregnant that month. The findings support the idea that couples should aim to stay as relaxed as they can about trying for a baby." — Dr. Cecilia Pyper, of the National Perinatal Epidemiology Unit at the University of Oxford.
So if you're trying to get pregnant, relax, don't get too stressed up on whether you'll get the baby or not and don't panic if you missed your fertile days.
(Source: BBC News)