If you're tired of having the same ol' long straight rebonded hairstyle, it's time for a change! There are already too many Pantene spokeperson wannabes on the street anyway. Go for something a little different, maybe some waves for a change just like on the Chloe Spring 2010 runway. The waves look natural and textured, bordering on looking like bed hair.
If you're still adamant that straight hair suits you best but still want to be trendy, fret not. You can go straight just like Anna Sui Spring 2010 1970s inspired hair. It doesn't look straightened like how the usual shampoo ads portray their girls, but voluminous with either side or centre part.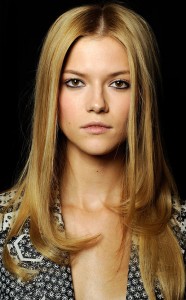 Both of the 1970s inspired hairstyle are suited for Fall/Winter 2010 and Spring/Summer 2010.
(Source: Fashionising)