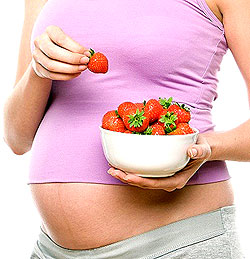 Having a child is probably the most exciting part of your life after your wedding and every mother wants the best for the child even during the first few months. Nine months is a long time and during that time, you may have cravings – some which are good for you and some that are not. However you may go through during your pregnancy, here are some tips on how to curb unhealthy cravings and choose better alternatives instead.
Eating in the A.M.
Whether you are pregnant or not, I always stress how important breakfast is because when you eat in the morning, you will not binge during lunch or dinner. There is a saying: "Eat like a king in the morning, eat like a prince in the afternoon and eat like a pauper at night." More importantly, go for something nutritious such as yoghurt, fresh fruits, wholegrain bread, oats and orange juice. To substitute ice cream, choose frozen yoghurt; for candy, frozen fruits and for something salty, pretzels or rice crackers.
2. Small is the way to go
Craving for chocolate? Break a small piece and keep the rest of the bar for later. Just a single bite will satisfy your craving and remember – "Mind over matter!" Want some ice-cream? Just have a spoonful and seal off the tub, keep it at the back of the freezer and forget about it. It is okay to have a taste of something you really want but if you take more than two bites, you might overeat.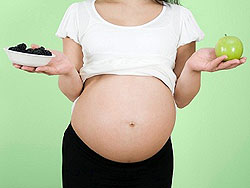 3.Eat frequently
The best advice I've received was not to cut down on my food intake but to eat more regularly albeit in smaller portions. By doing just that, you will avoid drops in blood sugar levels which can trigger food cravings. Prepare your own meals using healthy recipes that can benefit you and your child. Have a pack of nuts or raisins at hand whenever you feel like munching on something.
4.Daily dairy
Eating dairy products is good for you and your child as it is a good source of protein and calcium as well as other important nutrients to maintain your body. If you are lactose-intolerant, look for alternative options at the grocery store. Chances are, there should be a substitute for milk and other dairy products.
5. The lower the better
Choose lower-calorie foods as it also gives you the same satisfaction compared to high-calorie foods. For example, have frozen yoghurt or low-fat ice-cream when you crave for ice cream. Sorbet, sherbet and frozen fruit bars are healthier alternatives. If you like chocolates, go for the dark kind. Dark chocolate is lower in calories compared to milk chocolate and is said to be good for the heart.
6.Have a good support system
Usually during pregnancy, women tend to be emotional and experience bouts of mood swings. Don't resort to overeating but spend some time with someone with a listening ear. Talk to your husband or your friend whenever you feel irritable.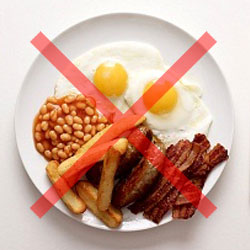 Cravings are part and parcel of pregnancy but don't let it be a hindrance to a happy pregnancy. Indulge a little bit once in awhile and if ever you do overeat, don't feel guilty. Pick yourself up and move on. Do what is best for you and your child and avoid alcohol and smoking.
(Source:Women Fitness)