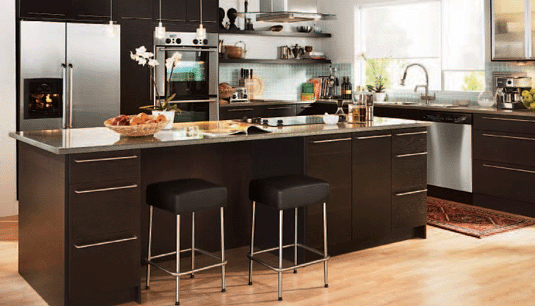 Combining form and function, a working island is an easy feature to add to a kitchen. Here is how to pick a style that suits the cook.
For the cook who loves to collect things
Look for a vintage cart on casters that can stand in as the perfect island for a kitchen with an old fashioned look. To use an island for food preparation, opt for one that's 18 to 24 inches across. Allow 3 feet of floor space around a centered island-more if appliances open into the area. To check, use masking tape on the floor to block off the size of the island and see how it feels to work around the imaginary addition.
For the cook who adores cottage styles
Install a Double-Decker island with furniture-style legs to create a space that's handy for storing gear as well as rolling out dough. The extra storage space underneath may eliminate the need for some upper kitchen cabinetry, which can help a small kitchen feel more open and airy.
For the cook with a modern soul
Add corrugated stainless steel to the sides of an island or install a concrete counter top to achieve an industrial look. Just be aware the some counter top surfaces, such as concrete and marble, may require periodic sealing to retain their good looks.
For the cook whose always entertaining
Go for an island with a wide overhang on one side to accommodate seating for family members or guests. For a standard 36-inch tall counter, a seat height of 24 to 30 inches will let legs slide easily underneath without knocking knees.