If there's one thing Malaysians are enthusiastic about, it's food! At the top of our list of fast food favourites are McDonald's, KFC, Jolibee and many more. But guess what? We have a new addition to the list. It's something crispy, juicy and definitely flavourful.

Say hello to Jackson's Fried Chicken! Despite the fact that Jackson's Fried Chicken is no longer the newest chick in town (or maybe it's still a little new for some), it is still the best. Since 2020, Jackson's has been satisfying desires, and they've now moved on to bringing a more localized flavour to the fast food realm. The revamped and enhanced menu includes popular local favourites like Nasi Lemak and other sweet tooth pleasures that will leave you wanting more.
That's right! Jackson's is mixing their juicy fried chicken with Malaysia's gastronomic glory – the ever fragrant Nasi Lemak – to take the fried chicken game to a whole new level! Customers can now order Nasi Lemak with Jackson's Popcorn Chicken in a variety of flavours, including the delectable original and the hot spicy. To tell you the truth, sumpah sedap!
We were delighted that Jackson's recently sent us a set of their newly curated menu – and it is bussin'. If you wanna know my take on the new menu, keep reading!
Nasi Lemak with Jackson's Popcorn Chicken
Jackson's is mixing their delicious fried chicken with a renowned Malaysian dish, Nasi Lemak, to take the fried chicken game to a whole new level. Customers may now enjoy a combination of delectable flavorful chicken with a hint of scorching, spicy flavour. My take on this dish is that it's just average – but the sambal is really good. It's sweet yet spicy. Another thing about this meal is that it's very convenient to eat. You know that those big pieces of chicken you struggle to eat from local nasi lemak vendors? With Jackson's Nasi Lemak Popcorn Chicken, you don't even have to worry about your chickens flying about, since they're all in 'popcorn' sizes.
Crispy Cheesy Wedges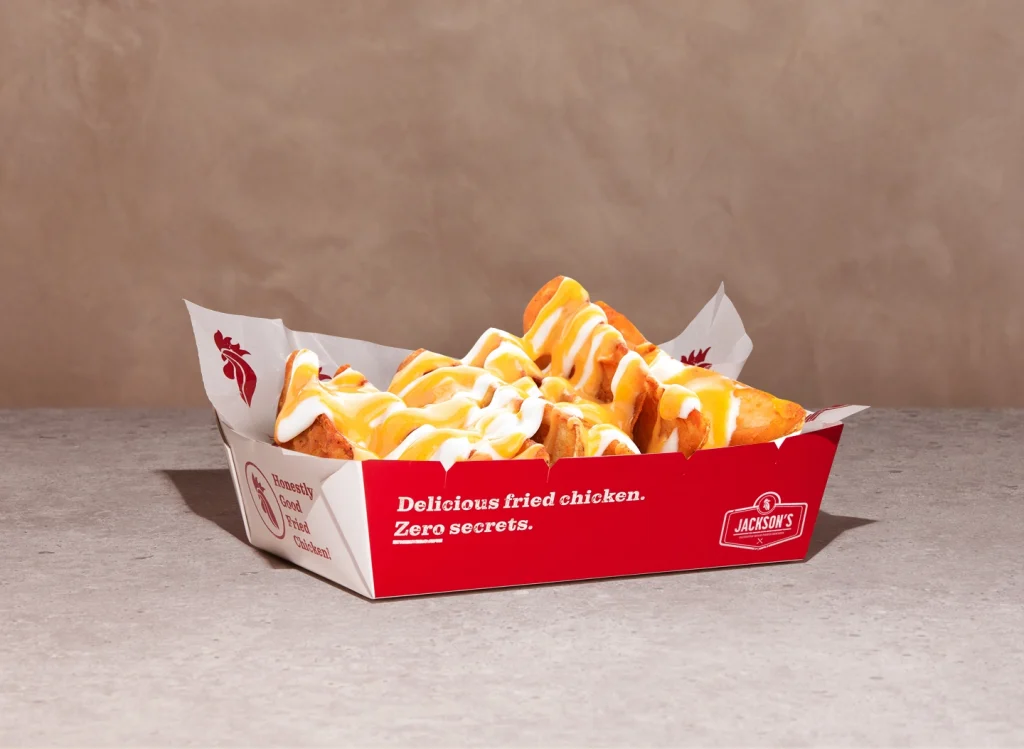 Not really a Malaysian thing, but why not! And if you're a cheese lover like me, you're gonna love this item. The Crispy Cheese Wedges is one of the latest additions to the Jackson's menu, and while not precisely a local flavour, they are certainly a local favourite. The eating experience is equivalent to having a party in your mouth, as it is topped with a generous amount of creamy sauce. Now, I know it's just potato wedges drizzled with mayo and cheese sauce, but eating them while they're hot, is definitely addictive. Not to mention how crispy and soft they taste.
Chicken Porridge With Crispy Chicken Chunks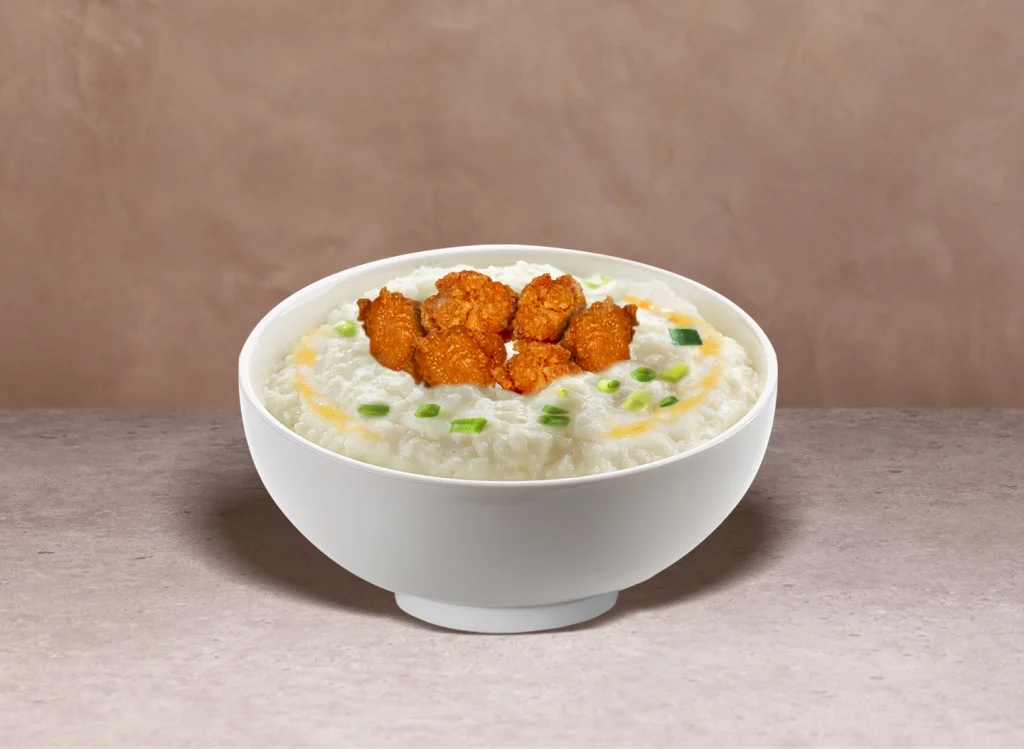 There's more on the list – and I definitely did not expect the next item. Another local favourite that has found its way onto the Jackson's Fried Chicken arsenal is a classic Chicken Porridge. This savoury stew, served with crispy chicken chunks, is a filling dinner that will warm your heart. You can enjoy this creamy and subtle porridge with crispy chicken bits that come in original or spicy flavour. It was surprising to find a bowl of porridge with chicken chunks in the package, but I did have a nice, warm dinner that night. Not to mention, it was raining, so the porridge was not only flavourful, but warming as well.
What's a meal without dessert, right? Of course, Jackson's had to bring up a great way to end a hearty meal. Not one, not two, but THREE amazing desserts to give you a belly full of satisfaction.
Biscoff Baked Cheesecake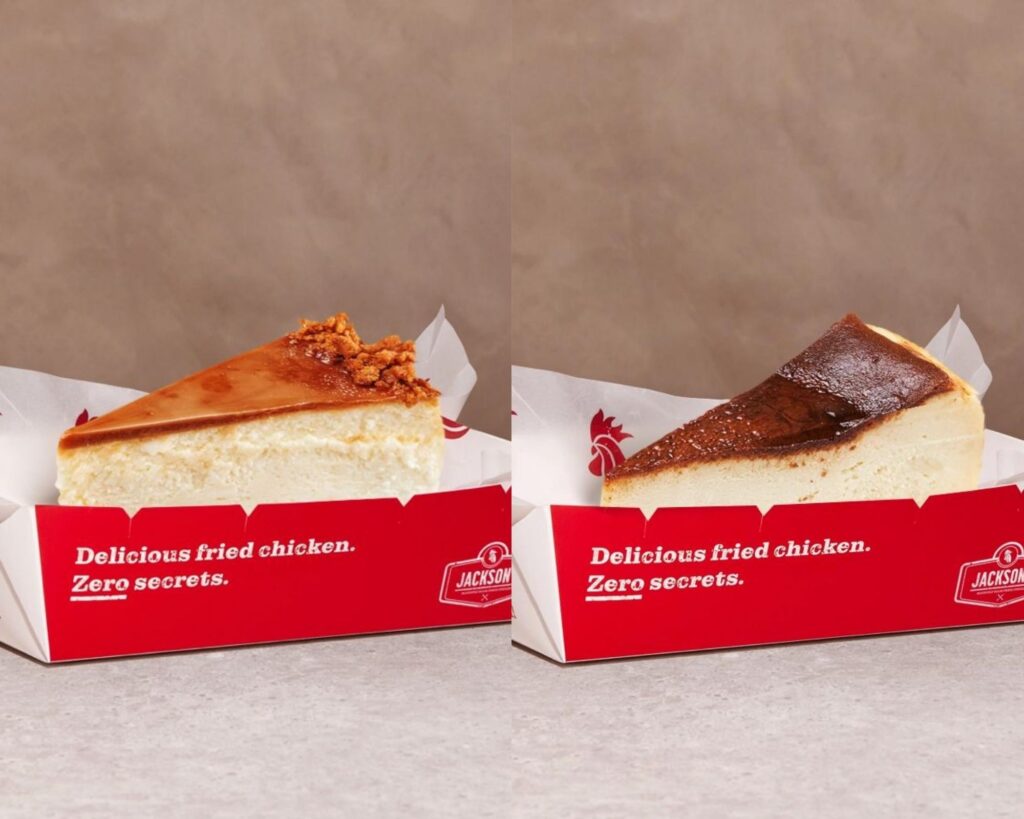 Not a savoury person? Not to worry, because Jackson's got you covered! Introducing the delectably decadent dessert menu, designed to satisfy all of your sweet cravings! Starting off with the Biscoff Baked Cheesecake. A dreamy new dessert to tingle your tastebuds. If you love Biscoff, it's a dream come true for you! I love almost anything with cheese, so of course, cheesecake is on my list. I really like how light yet flavourful the cheesecake was. Also, the Biscoff wasn't overwhelming. I mean, after having a heavy meal, you wouldn't want something that makes you spin. Another choice is the light Burnt Cheesecake.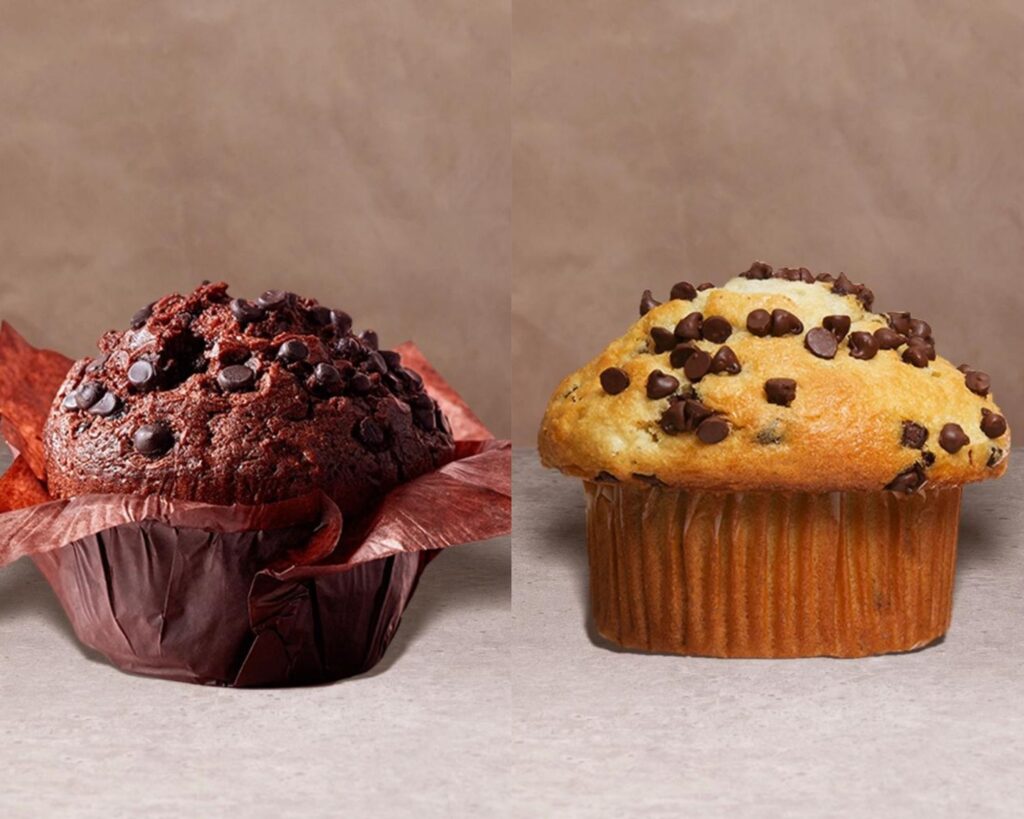 Apart from the biscoff cheesecake, there are two other desserts. Double Chocolate Muffin and Banana Chocolate Chip Muffin. Every mouthful of this shows-topping muffin is filled with chocolate chips, and it doesn't get any better than this. A classic combo of banana and chocolate never goes wrong and it hits the sweet spot for sure.
Wait no more! Enjoy this amazing new menu from Jackson's by ordering through Foodpanda. To check out more on Jackson's and their latest offerings, head to their Instagram or Facebook page.
More on food? Read this: