Comfort food is food that has a nostalgic or sentimental value for someone and is distinguished by its warm comfiness.  It's possible that each person's nostalgia is unique. When your day wasn't going well, these comfort foods were there for you.
They'll heal your soul…and fill your tummy, with anything from soups to casseroles to all things cheese. Also, if you're looking for a healthy version of your favourite, check out Maria Mart's comfort delights!
Maria's Mart is the latest platform for the steakhouse, designed to be a one stop solution to all your home cooking needs. Maria's Mart has the consumer in mind with the aim of bringing convenience to your day-to-day modern living.
Ask any steak connoisseur worth his or her salt for the best steak recommendations in town and chances are you will hear the glowing praise for Maria's SteakCafe.
Their A grade and wide-ranging steaks from Wagyu to dry aged beef are a must have for every food lover and with that, Maria's SteakCafe has cemented their place as a strong contender in the F&B scene.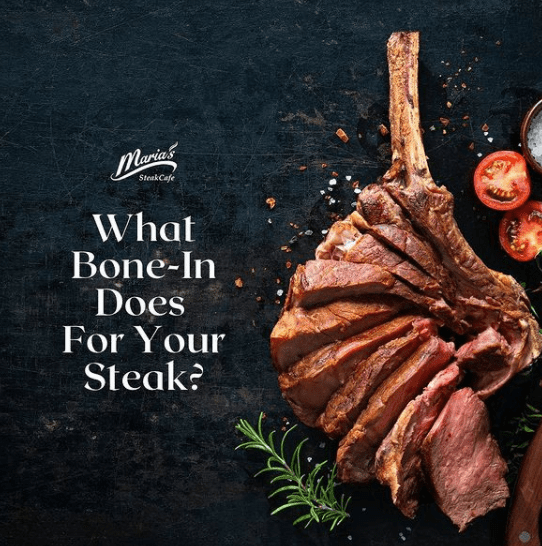 Maria's SteakCafe uses only the freshest and most premium ingredients when it comes to serving their culinary delights, and now with their latest venture, you can recreate these culinary delights as well as concoct your own signature dishes from the comfort of your home hassle-free.
Angeline Tan, CEO of Maria SteakCafe Sdn Bhd says,
"We are very excited with the launch of Maria's Mart as this has been in the planning for some time now. And with everyone spending more time at home these days, we are delighted to bring Maria's SteakCafe one
step closer to your heart in your home".
Maria's Mart offers fresh and carefully selected premium ingredients in meats, fruits, and vegetables along with recipes that even the most novice of home cooks will find easy to follow. They come in specially curated and
environmentally friendly boxes with wholesome Maria's goodies that add a personal touch.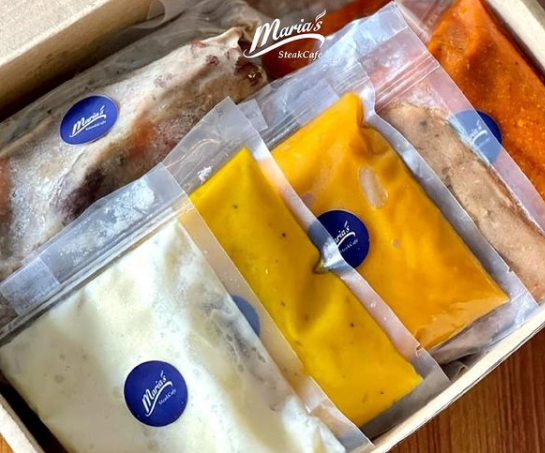 You will also enjoy the peace of mind knowing that Maria's Mart has you and your family's well-being and health in mind with their uncompromising stance on quality control. All of the ingredients are pork-free for everyone's enjoyment while all beef and poultry are certified halal.
Maria's SteakCafe believes that meal preparation is one of life's biggest joys and should be simple and enjoyable so we can spend more quality time with our loved ones. As such, Maria's Mart also caters to those who are busy juggling modern lives with yet another easy solution.
Ready-to-eat frozen food packs specially prepared in-house, can be served piping hot and fresh in minutes and there you have it, a comfort meal without breaking a sweat or the bank. Pumpkin soup, mushroom soup, lamb shank are some of the available frozen options. Prices for box and frozen food packs vary by selection.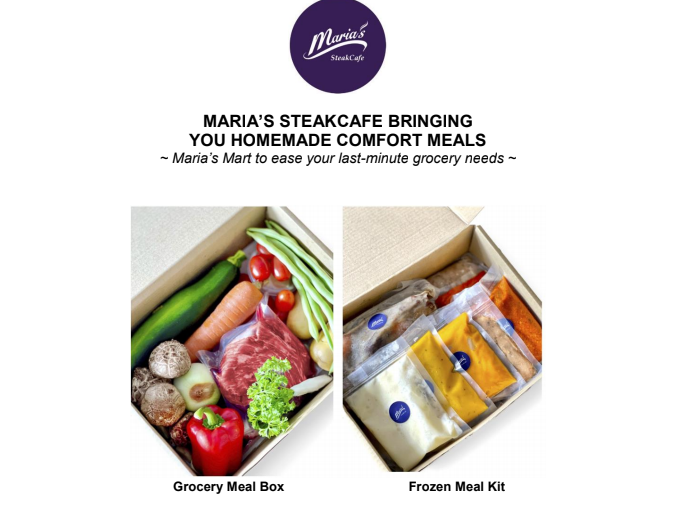 GROCERY MEAL BOX – Main Course Selections (2 options)
Every main course comes with mixed vegetables and potatoes. Cooking instructions will be provided. Price varies depending on selections.


Boneless Chicken Thigh | Salmon Fillet | N.Z. Lamb Cutlets | Australian Black Angus Flank

Steak (200g- 22g) | Australian Black Angus Striploin (200g-220g) | Australian Wagyu MB7 Rib

Eye (200g-220g) | Japanese Wagyu A5 (200g-220g)
FROZEN MEAL KIT | RM111.80+ | Suitable for 6 pax
Spaghetti x 3 | Pumpkin Soup x 1 | Curried Apple Soup x 1 | Mashed Potato x 1 | Lamb Shank x 1 | Grilled Chicken x 1 | Beef Stew x 1 | Beef Bolognese x 1 | Chicken Bolognese x 1 | Mushroom Soup x 1 | Mushroom Sauce x 1
*

All of the above items are also available on a la carte basis
Do check out Maria's SteakCafe on Beepit link for more details