This Raya, tradition and modern elements collide at Sunway Pyramid to create a colourful and brilliant atmosphere that captures the lively spirit of the festive season. The mall's LG2 Orange Concourse has been turned into an eye-catching set-up reminiscent of traditional balik kampung settings for shoppers to carry out their holiday preparations in style, from 15th April to 8th May, with the theme 'Riuh Ria Raya.'
In the center of the concourse, a vibrantly-coloured kampung home evokes sentiments of enthusiasm, joy and celebration, with colourful shades of pink, turquoise, blue, and yellow. Flora and wildlife in similar colours adorn the concourse, contributing to the festive ambience.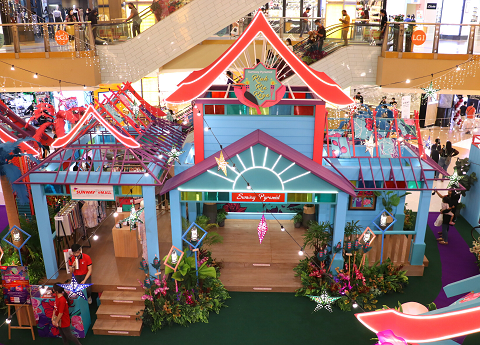 Sunway Pyramid has also partnered with Abdulrashade, a well-known graffiti artist, whose paintings and murals can be spotted around the concourse. Abdulrashade exhibits his talent via paintings of orchids in full bloom symbolising dawn, with bright colours and powerful strokes to reflect life and endurance, all with a floral pattern as the main design. The Penang-born artist is recognised for his wild-style typography, which includes abstract art and enormous compositions which can be found throughout the concourse.
This collaboration also includes a partnership with Peugeot for an interactive section for the mall. Abdulrashade's artwork is featured on a full-body wrap for the Peugeot 2008, which also doubles as an interactive augmented reality (AR) experience. Through augmented reality, the butterfly on the automobile comes to life, and customers can see the art piece of butterflies and orchids, which signifies the unity of connections, life, and progress.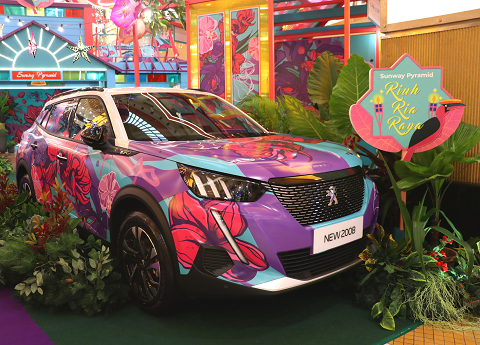 The artworks will also be featured on the mall's duit raya packs, which sport a flowery design and can be redeemed by shoppers who spend a minimum of RM250 in two receipts at the mall (RM150 for HSBC credit cardholders). Spending RM500 (RM400 for HSBC credit cardholders) gets you a RM50 Sunway eMall gift, while spending more than RM800 (RM700 for HSBC credit cardholders) gets you a limited-edition 2-Tier carrier from The Tiffin Company. With each redemption, shoppers will be entered to win Sunway Lagoon Annual Passes.
Part of the enjoyment of the Raya season is getting to dress up in your best clothes, and what better way to show them off than with Samsung's Single Take in a Snap and Win contest? Shoppers can snap their clothes at the Samsung booth in the Concourse and share them on social media using the hashtags #RiuhKatPyramid, #RiuhRiaRaya, and #GalaxyS22 to be entered to win a Samsung Galaxy S22 phone!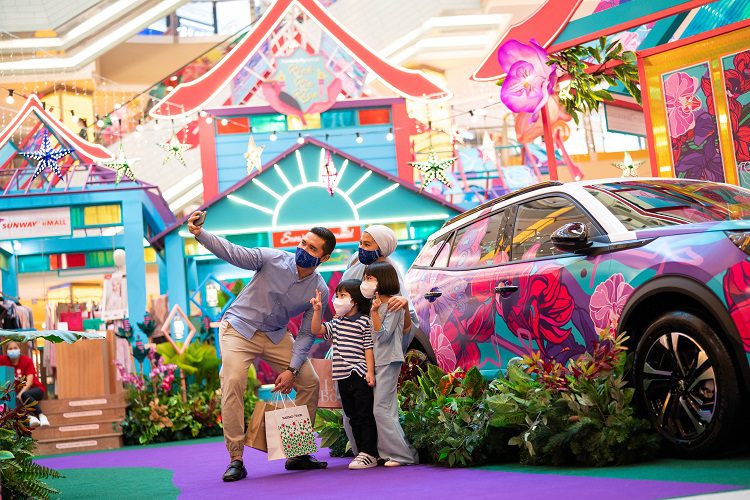 Various booths from participating tenants, including renowned fashion brand Christy Ng, Rimba, and Sunway eMall, will ensure that shoppers do not miss out on basics to enliven their festivities this year. Throughout the month of Ramadhan, shoppers could also pick from a range of eateries to break fast with their family and loved ones at; and unwind after a hard day. Sunway Pyramid is a shopping paradise for anyone wishing to complete their Raya celebrations, from décor to food and drinks!
Tenor

Visit sunwaypyramid.com/riuh-ria-raya for more information!
More on Raya decor? Read this:
Time To Celebr8! Farenheit88 Presents 'Raya Melodies' And Festive Goodies!