Under Armour aims to reinforce and reintroduce women out there, exactly who they are during this time of unprecedented change and transformation. As a professional development company, they are very much dedicated to boosting the viability of all athletes.
They strongly standby to the ones who keep their heads in the game, to all those who are tough and resilient, who set goals in the face of setbacks and work through the noise to make them happen. It has nothing to do with gender, age, skin color, or background; as it is solely all about the grind and the insatiable desire for more.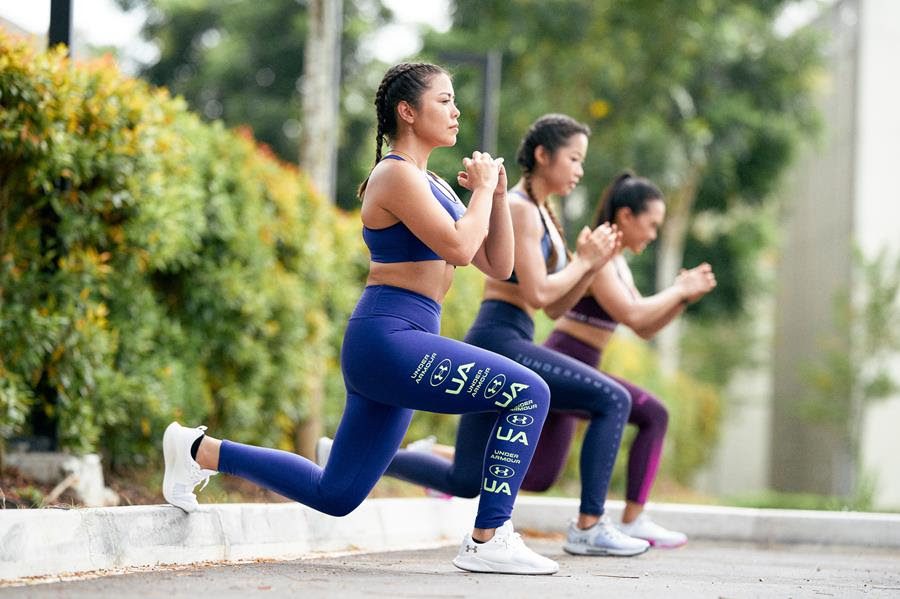 Under Armour, the originator of performance footwear, apparel, and equipment, revolutionised how athletes across the world dress. Designed to make all athletes better, the brand's innovative products are sold worldwide to athletes at all levels. The Under Armour Connected Fitness platform powers the world's largest digital health and fitness community through a suite of applications through UA Record, MapMyFitness, Endomondo, and MyFitnessPal.

As the future is fragile and unpredictable, and it is easy to become shaken and distracted, it is critical that we continue to lift one another and see the other as inspiration and encouragement to keep getting better, fitter and healthier. So, in relation to their top athletes, they have widened the spotlight to rising stars, rock star trainers, and real-life warriors leveling up at home because they believe there's no one perfect prototype who suits their innovations, but a slew of women who inspire them to keep creating more.
STRENGTH IN THE SQUAD
The good news is that you're not in this alone. You're pushed even further by those around you. It's that same power of the Köhler Effect we've been talking about. That motivation and inspiration you get from other people both physically and mentally. And these are your people. They're not pro athletes, but they for sure know struggle and strength and what mustering that mindset means to meaningful progress.
Your crew is one important part of the puzzle, but your clothes are equally important. Sure, if we are going to achieve meaningful change, in the gym or otherwise, we have to get comfortable with the idea of being uncomfortable. But that doesn't mean we should be uncomfortable in our clothes. In fact, being at peace with what you're wearing has a tremendously transformative effect in itself, because of something called Enclothed Cognition.
ENCLOTHED COGNITION
The direct influence your clothes have on your focus, confidence, perception, and performance is vital. Unfortunately, there's been an age-long battle with bras and leggings because they have not been built to serve you properly. Instead, they distract your focus and throttle your drive. It's hard to fight on when you're busy fighting your gear.
With that in mind, Under Armour finally achieved this mind-body connection through clothing, by actually listening to both what customers want and need for their body.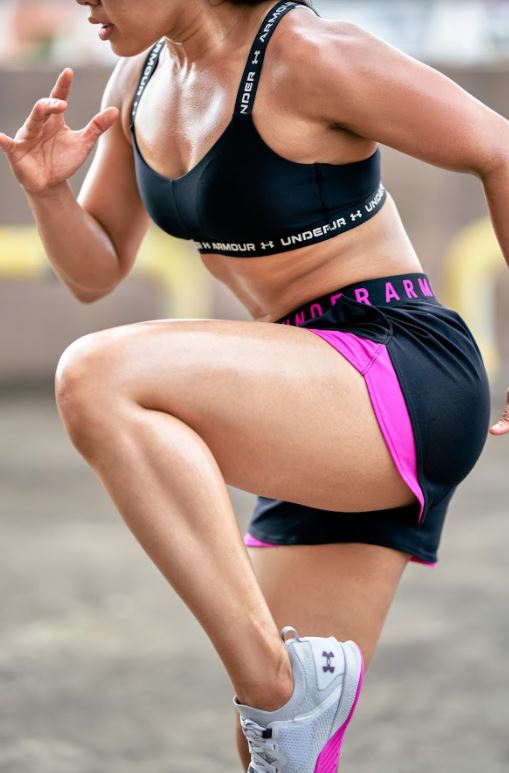 BRAS THAT LISTEN TO YOU & YOUR BODY
Bras are a pain. Too loose. Too tight. Too sweaty. We took everything you hate about traditional sports bras and engineered a whole suite of bras that eliminate the pain points, pitfalls, and distractions…so they actually work. The Armour, Mid Crossback is designed with your specific feedback in mind to address these fit, feel, and performance failures.
Tech design with fit/performance notes and bra evolution:
Open up the back for easier on & off.
Increased sides & neckline for extra coverage and support.
Super-breathable slip-free pads that won't sacrifice shape.
SUPPORT & COVERAGE THAT WON'T FIGHT AGAINST YOUR BODY.
What makes the UA Infinity Bra so different is that it's actually based on the natural movement of the breast, so it syncs with your body instead of fighting against it. So you have the confidence to go exactly as hard as you want, without having to hold back because of bounce. The result is a bra that delivers less pain and better control, so you can focus fully on the task at hand and push yourself further than you ever thought possible. ​
One-piece, infinity-shaped padding creates unique synchrony between your breasts & your motion.
Easy slide-adjust straps are built to fit your exact body.
OUR FASTEST-DRYING PADDING YET.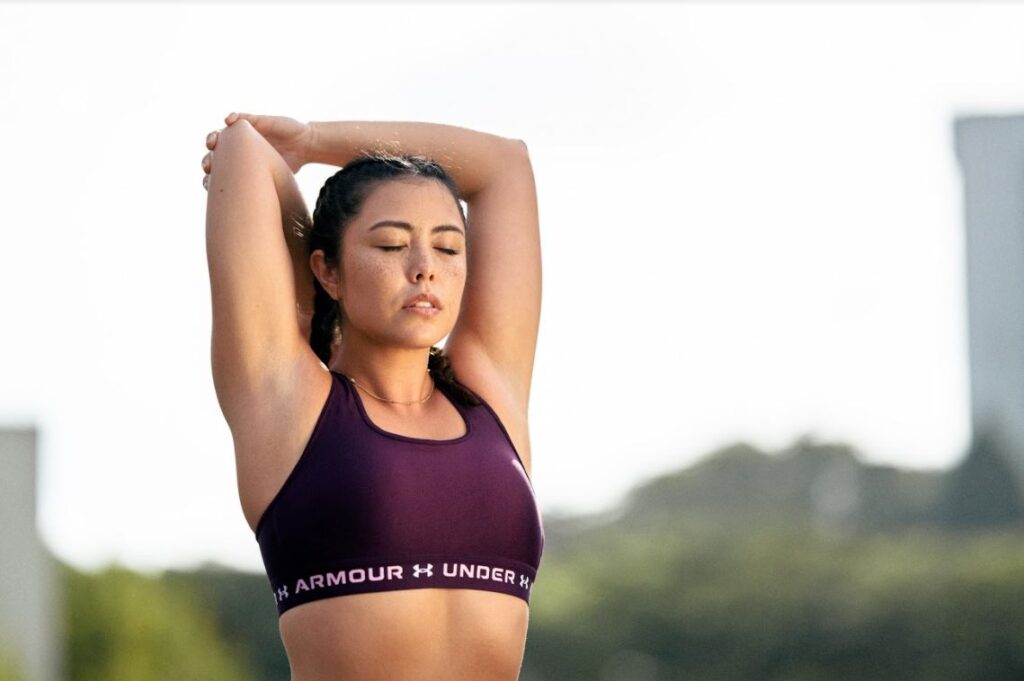 By basically carving away excess padding in the cups of the UA Infinity Bra, Under Armour has created a super-breathable structure that moves moisture instead of trapping it allowing it to dry faster.
Cored-out padding eliminates extra bulk for better breathability without sacrificing support.
Engineered to be our fastest-drying padding yet
MINIMAL DESIGN WITH MAXIMUM ADJUSTABILITY.
So, speaking of crushing your goals…there's nothing worse than when you're going hard after something and your straps start to dig or slip off your shoulders or your band begins to bunch up under your boobs. They have just crafted the UA RUSH™ High impact bra to keep up with your high expectations and energy levels by delivering uncompromising comfort with a sleek custom fit.
Soft, wide straps with front adjusters for a custom fit that won't dig in or slide as you move.
Super-silky sweat-wicking band with easy hook & eye closure for adjustable comfort.
Free-cut fabric for a minimal design that still delivers high-support without all the digging & friction.
We all do it. The shimmy, smooth, and tuck of the waistband after or, worse yet, during things like squats, mountain climbers, speed skaters, or down dog. It's almost a reflex a fact of life. But spotty coverage sucks. It shakes your focus, your confidence. So, they've created an unshakable No-Slip Waistband legging that uses the natural friction of movement to grip itself as you work, finally keeping your waistband and your head exactly where it belongs.
They hid a double-sided silicone print inside the super-soft fabric to keep your waistband from slipping or sagging.
Super-comfortable high-rise design for the perfect amount of support & coverage even when you move.
With all these amazing collections released, what are you waiting for! Let's dig in!!
Under Armour will be celebrating Good Friday from 1 – 4 April with promotions (outlet only) of Buy 2 and receive 1 free item and from 5 – 28 April, you can save more on larger purchases and give your workout a boost.  CLICK HERE TO SHOP AWAY!