I'm sure we would have come across bewildering moves of crazy rich multi-millionaires and billionaires going exotically extra having their cars covered in gold and diamonds but beating the odds of all, Kim Kardashian has flabbergasted the entire world by covering her new $200K Lamborghini in a towel like fabric from her own clothing line, SKIMS!
OMG isn't this the cutest and funniest thing ever??? A new ride w everything @skims cozy fabric! We're coming out w new Cozy styles soon! Get cozy in 6 colors and sizes XXS-5X on Monday, 06.14 at 9AM PT on https://t.co/Qsy51Sl2Sd and join the waitlist now for early access to shop pic.twitter.com/XphN5dgbUZ

— Kim Kardashian West (@KimKardashian) June 11, 2021
Kimberly Kardashian, 40 or Kim as she reckons herself in her reality show Keeping Up With Kardashians, posted a video of her walking out in the very same soft fabric from her Los Angeles mansion to find her Lambo wrapped from her SKIMS brand that was covered around her automobile.
The Reality star subsequently showcased the luxury car, which had been completely refurbished with the material on both the outside and interior. Raising wonders if she has lost her mind with all the ruckus she is facing due to Kanye West amidst the foul rumours that have taken a bitter taste in her household… 
The cosy collection encased the tire's hubcap, as well as the interior seats, roof, steering wheel, floor, and even the special SKIMS registration plate. She then went on to upload pictures of herself lounging by the car, modelling her snug line's new bra top, sweatpants, and slides, and apparently sunbathing on the hood in one.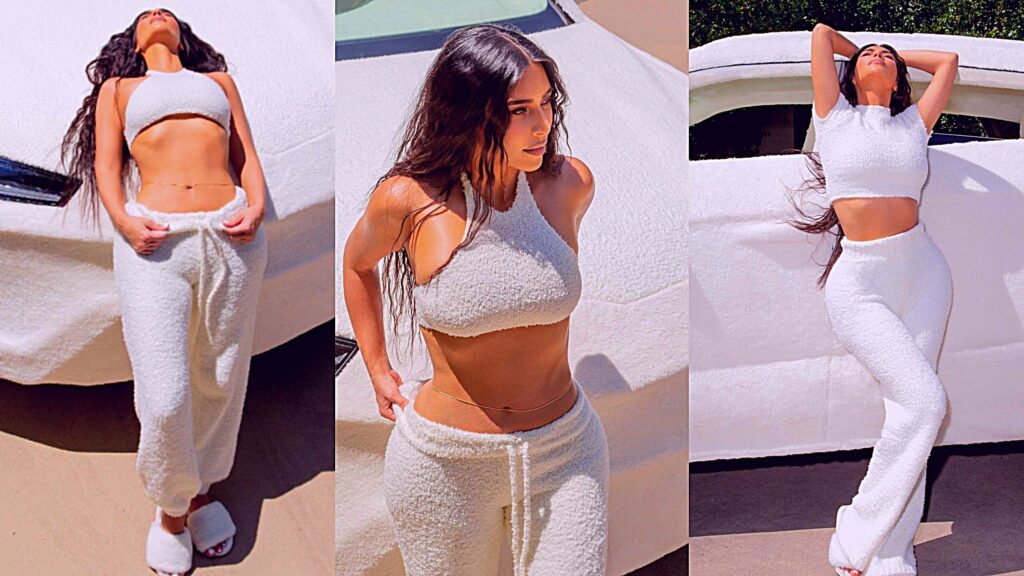 Breaking the news out to the public on Twitter during this crazy pandemic had fans smouldering her with bashful comments, raging what a huge waste of money it is! Fans are starstruck in disbelief, outraged trying to process how her entire car is covered with a towel like material.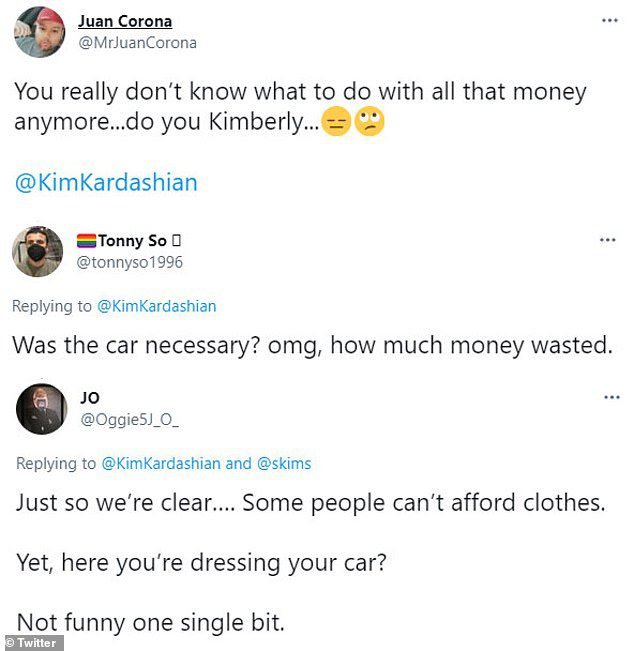 Despite the main motive of Kim with the whole LAMB-BO in SKIMS to market her new soft comfy clothing line collections strangely unique, I believe she got a little crazily carried away extending it to cover her car in it. Well, too much money can definitely make a person go crazy and wild having them do things out of their mind!