As we age, the elasticity and suppleness of our skin declines, resulting in drier skin that is strewn with fine lines and wrinkles, particularly around our eyes. Regardless of how many good nights sleep you've gotten or how well-balanced your diet is, the first indication of ageing is the wrinkles on our faces.
Of course, there's nothing wrong with having wrinkles. However, there is such a thing as pre-aging skin, which occurs before you reach the age at which wrinkles and fine lines form on your skin. Thus, Clinelle has released a new, redesigned appearance and better formula for its CaviarGold Skincare Range, which will revive and nourish your skin to get rid of those pesky wrinkles as soon as possible!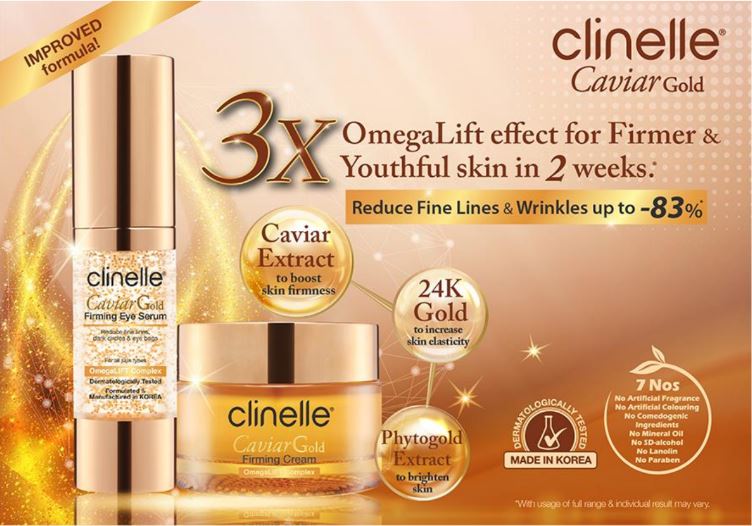 The CaviarGold Skincare Range provides the ideal answer to all ageing skin issues by combining natural and high-performing components. Even Shima Anuar, a phenomenal Malaysian actress and Clinelle brand ambassador, uses Clinelle's new and enhanced CaviarGold Skincare Range in her skincare routine.
"People often ask me about my secret to having bright eyes, and my answer is always Clinelle. As an artiste, I tend to have insufficient sleep due to my busy schedule, my eyes are always tired and dry. I am glad that Clinelle has relaunched its CaviarGold Eye Serum with enhanced formula. The texture is so light and it absorbs quickly that it doesn't form any milia seeds around my eyes. Though it is working gently on my skin, it helps to firm and lift my eyelids. It has never failed me in delivering fast and visible results. I have always given my eyes the care it deserves." – Shima Anuar, Clinelle Ambassador.
Clinelle CaviarGold Skincare Range
All of the products listed below are infused with Caviar extract, 24k Gold, and plant phyto gold to help boost skin's collagen; and are powered by Omegalift complex, which has 5x more caviar extract and a natural blend of Omega 3,6, and 9, assisting our skin in regaining its firmness and providing an instant, long-term skin firming lifting effect.
CaviarGold Firming Cleanser
CaviarGold Firming Lotion
CaviarGold Firming Eye Serum
CaviarGold Firming Serum
CaviarGold Firming Cream
CaviarGold Firming Facial Mask
Research has also shown that using the entire Clinelle CaviarGold range can decrease fine lines and wrinkles by up to 83% in just two weeks! More than 85% of consumers reported improvement in eye puffiness, dark circles, wrinkles, and fine lines.
Clinelle CaviarGold range is available at Watsons, Guardian, AEON Wellness & selected independent pharmacies nationwide.
More on skincare? Read these:
Wardah Beauty's Latest Sunscreen Is The Last Word-ah In UV Protection!