There is a plethora of products on the market to help those suffering with acne. Long gone are the days when we would DIY some ridiculous hack to get rid of our pimples, or use our dirty fingers to squeeze the life out of our skin – although some of us are totally guilty of doing that even NOW.
Acne patches are ideal for spot treatments since they minimise the size and redness of pimples without dehydrating the skin. If you have a bad pimple the day before an event, simply apply the acne patch as a band-aid and wait for the magic to happen while you sleep. Your pimple will shrink dramatically the next day.
So, here are some of our top acne patch recommendations: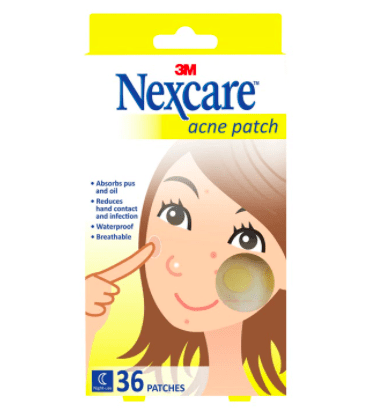 If you're searching for a more budget-friendly option for your first acne patch, we recommend the NEXCARE Acne Patch, which comes in a pack of 36 patches (that's a lot!). Priced at RM13.09, this acne patch aids in the removal of blemishes and is suitable for all skin types, which is a major bonus. The hydrocolloid in the patches aids in the absorption of all excess oil in the afflicted region. All you have to do is peel the liner's cover off and apply it to clean, dry skin. The patch will definitely perform its magic when the colour shifts from clear to white.
When it comes to acne patches, COSRX is considered to be among the best of the best. When it comes to getting rid of your pimple for good, the company isn't messing around. The COSRX Acne Pimple Master Patch, which costs RM15.64, contains hydrocolloid, which prevents subsequent infections by shielding the skin from external dust while providing adequate breathability to limit the risk of scarring.

OXY products are regarded as cult favourites due to their effectiveness in delivering on their promise. The same can be said for the OXY Anti-Bacterial Acne Patch – which costs RM14.49 – and is one of skincare aficionados' favourite products to keep on hand for when they're having a terrible pimple day. The patches themselves shrink the pimple and absorb its discharge. It's a thin, transparent hydrocolloid patch that acts like a sponge, absorbing pus and oil from within pimples.

Do you have a big pimple the day before an important event? Don't worry, the Proxyl AC Rescue Spot Patch from MANYO FACTORY is here to save the day! The patches from MANYO FACTORY Proxyl AC Rescue Spot Patch are incredibly thin and help safeguard your breakout region for RM34.20 – the costliest in this category.
The patches establish a conducive environment for acne healing by absorbing acne discharge, regulating skin moisture levels, and enabling enough ventilation in the covered area. It does everything which seems to good to be true, but who knows, perhaps these acne patches are worth the money?
Purederm Miracle Solution Micro Fill Patch is the perfect acne patch for you, if you really want to get rid of all the muck and puss before a big day. This RM19.90 acne patch works wonders on pimples, keeping your skin free of blemishes. The treatment is a biodegradable advanced filler that efficiently releases Salicylic Acid into the skin without the discomfort and anxiety of needles. This acne patch is truly magic in a packet and I wouldn't wait to get my hands on it.
More on skincare? Read these: 
Lovely Locals! 3 Malaysian Skincare Brands You've GOT To Be BFFs With #sapotlokal
Local, Global: Local Skincare Brands That Level Up To International Labels #Sapotlokal