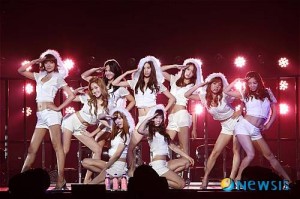 Korean pop seems to be getting more and more popular these days and many suspect that K-pop will be  huge sensation here in this country. For those who are not overly familiar with the singing groups in Korea, here's one group that catches the attention of both girls and guys; SNSD or also known as Girl's Generation. As popular as they are in Korea and other Asian countries, they have now taken Japan by storm ever since their debut of first single "Genie".
Representatives of Oricon commented, "With many K-pop girl groups entering the Japanese market this year, the true stars of the phenomenon have been leading a good start."
There have also been rumours about SNSD making a possible appearance on NHK Kōhaku Uta Gassen, a music program run by NHK every year on December 31st, inviting only those that best represent that year.
Guess the Japanese are not immune to SNSD's mesmerising long legs, pretty faces, groovy moves and nightingale voices.
(Source: AllKPop)