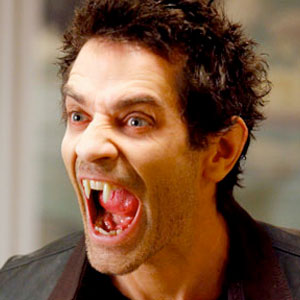 Many have asked this same question; why do the vamps in True Blood have their terrifying fangs on their laterals and not their cuspids? There have been quite a lot of snickering (especially from the male population) that the TrueBlood vampires look absolutely weird with their fangs at the front instead of the more commonly accepted canines.
According to the show creator Alan Ball, he said, "We created fangs that actually lie flat along the roof of the mouth and then click into place when a vampire is in danger or aroused or ready to feed, much like a rattlesnake's fangs click into place. Then we put the fangs not with the four front teeth between them, but with only two because it worked better for the physiology of the rattlesnake, the snake fang working. And I like that, because it looks a little different. It doesn't look like the classic thing"
Apparently, according to a few dentists, the canine is a more masculine tooth compared to the lateral which is more feminine hence bringing about a more aggressive look for the characters. I have no idea how does that make any sense but then I am not someone who's familiar with psychology. Anyhow, with the way these sexy, hot bodied, shirtless vampires run around the set on True Blood, it doesn't matter to me where the fangs are – they're still the most awesome eye candy a girl can ask for.
(Source: eOnline)