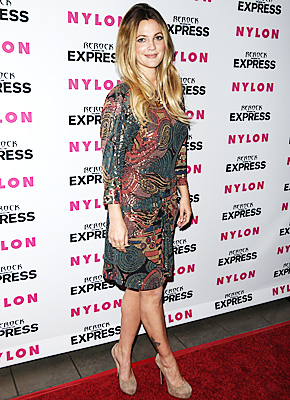 Sometimes, you don't need a large bank account to look beautiful. In fact, you don't even need brand new clothes from a certain label to look good. If you really do like that label, why don't you look for vintage clothes from that designer? If the designer is established, I am sure he/she has a collection maybe ten years ago that can be bought at a lower price.
Exibit no. 1 – Drew Barrymore. This woman knows how to get the best bang out of the buck by investing in a metallic mosaic print dress on the red carpet that costs a fraction of brand new designer clothes. Just USD25, she looks as good as those who were wearing the latest styles. Fashion always makes a comeback so you can always find something; a blast from the past to give you the Oscar look without piling up the credit card debts.
If you really can't live without labels, do what she did by mixing thrift and high-end. Her suede YSL pumps just adds the cherry on the top.
(Source: In Style)