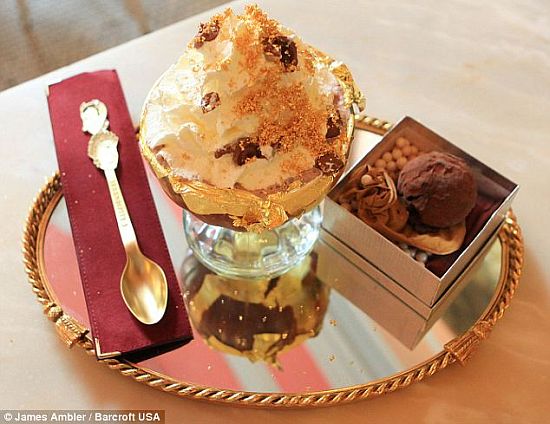 I've never quite understood why anyone would want to eat gold, at the price tag they carry, wouldn't it be better just to invest or buy pretty jewelries made of gold? A restaurant in New York has recently introduced two of the world's most expensive puddings that are listed in the Guinness Book of Record, both adorned with 24-carat edible Swiss gold and 23-carat edible gold leaf lining. Costing GBP£630 (RM3,213), the Grand Opulence Sundae was first created in 2005 in celebration of their 50th anniversary. With a 48 hours preparation time, it is made with 3 scoops of Tahitian vanilla ice cream, Madagascar vanilla pods, Amedei Porcelena chocolate, candied fruits from Paris and the Grand Passion Caviar and is served in a baccarat Harcourt crystal goblet with an 18 carat golden spoon. I think I've just listed out a bunch of things I don't even understand, let alone, want to pay so much just to let my stomach process it to waste.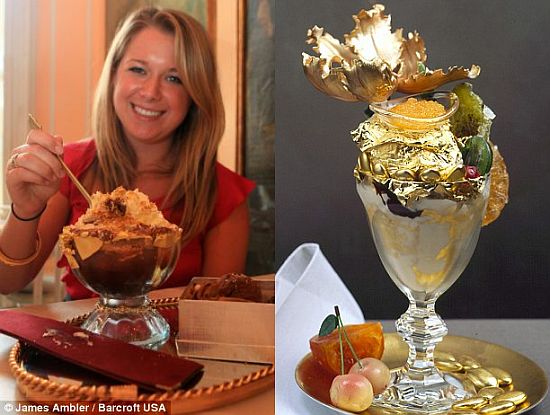 The second dessert cost a whopping GBP£15,730 (RM80,223) for a Frrrozen Haute Chocolate that takes 2 weeks notification period to make. On top of being adorn with edible gold, this pudding is a fine blend of 28 cocas including 14 of the world's most expensive and exotic cocas topped up with the world's most expensive truffle, the La Madeline au Truffle priced at approximately RM8,000 a pound. It is served on a goblet featuring an 18-carat gold and white diamond bracelet on its neck and a jewel encrusted spoon which the customer can take home.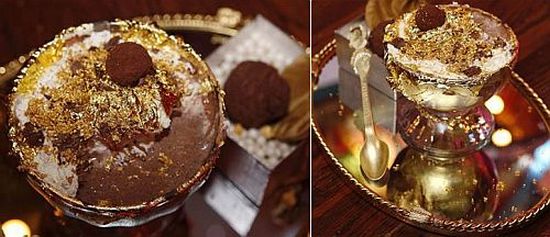 Have you tasted gold before? Do they even have any taste or are they just as tasteless and have no nutritional value like sharks fin? Nevertheless, at least these expensive foods doesn't involve killing of poor animals in a cruel manner, instead, all profits from the Frrrozen Haute Chocolate will go to children's charities in New York.
(Source: Born Rich)