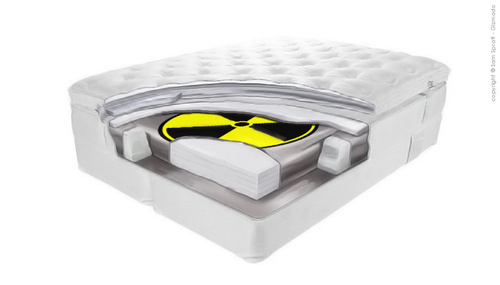 Ever heard of mattress commercials that tells us how we spend a third of our lives in the bed that's why we need a good mattress to protect our bone structure and such? Well, you wouldn't feel that way anymore because researchers have found that boxspring mattress are the cause of cancer. This is also the reason why breast cancer rate is 10% higher on the left side rather than the right because people tend to sleep on their right side.
Thus, as we sleep on our coil-spring mattresses, we are in effect sleeping on an antenna that amplifies the intensity of the broadcast FM/TV radiation. Asleep on these antennas, our bodies are exposed to the amplified electromagnetic radiation for a third of our life spans. As we slumber on a metal coil-spring mattress, a wave of electromagnetic radiation envelops our bodies so that the maximum strength of the field develops 75 centimeters above the mattress in the middle of our bodies. When sleeping on the right side, the body's left side will thereby be exposed to field strength about twice as strong as what the right side absorbs.
So what should we do? Honestly I have no idea, but since we're already dying anyway – if not from the electronic waves and such – we'll be dying of old age anyway, so let's just buy something we're comfortable with to sleep in so we can all die in peace.
(Source: Gizmodo)